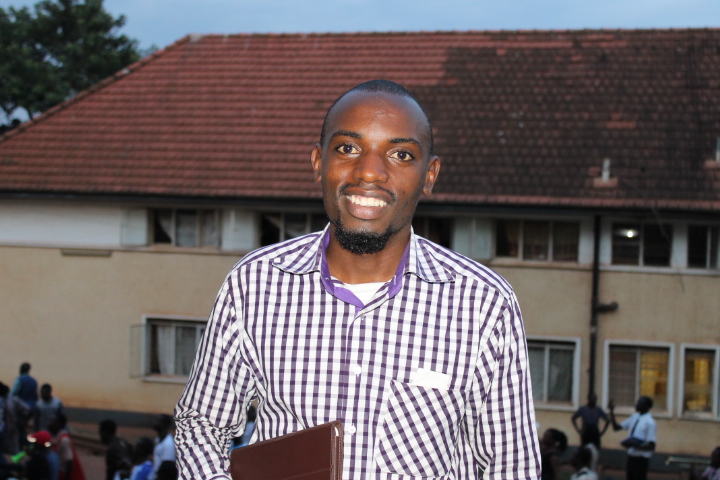 Jothan Yamureebire Burobuto was on Thursday 27th April, 2017 unanimously reinstated as the 83rd Guild Speaker with a whooping 45 votes in a tricky race marred with slander, character assasinations and defamation.
Burobuto, who has earlier served the university in the same position while in the 81st Guild, beat off competition from close to ten other contestants.
Burobuto who was precise and clear in his speech before the voting, pointed out the two greatest tasks that present themselves to be done by the 83rd guild – voting for the university Vice Chancellor (VC) and reviewing of the report by the Visitation Committee.
92 members of the GRC took part in the voting exercise where former GRC Yosam Bagumirabingi got 19 votes, Steven Mayombwe 1 vote, Lameck Ogwal got 11, Omollo Juma Noah 3, Denis Ssekyaya 7, Frank Ludovic Ssentamu got 4, former Lumumba hall chairman Gerald Kamanah got 1 vote and Jothan Yamureebire got 45.
In the other races, Public Health GRC Brenda Wagaba was voted Deputy Speaker beating off competition from Brenda Lapobo of School of Education and Jonah Taremwa and Ireen Natukwasa become Guild Clerk and Deputy respectively too.
Burobuto, who handed over to Imran Kasujja as Guild Speaker last year has again taken over what he had handed over.
Some critics have chosen to call it reverse politics.
Call it what you deem fit but history has been written.
Burobuto was born in Bushenyi district. He went to St. Peter's Primary School, Nsambya where he scored aggregate 6.
From primary, he went to Ntare School in Mbarara where he served as Junior House Captain of Aggrey House and scored aggregate 12 in 8 at UCE.
At Uganda Martyrs Namugongo, he offered History, Economics, Literature and Divinity even when his parents wanted him to offer sciences.
At Makerere University, he was Law School GRC in first year, Makerere Law Society (MLS) President, 81st Guild Speaker, Ag. Guild President and Guild Prime Minister before he was reinstated as the 83rd Guild Speaker.