By Okello Herbert
It's common knowledge that university admission letters are out, vacists are therefore visiting universities in droves, in quest of findin a much coveted slot. Makerere university has had a fair share of gullible and naive vacists excited by the prospect of joining. Some have fallen prey to con men and paid dearly. A group of about 13 vacists decided to tour the vast Muk campus, all was well till their curiosity blinded them, and they didn't pay heed to the popular adage "curiosity killed the cat! ".
The excited fellows were attracted by "Gongom," an infamous statue in Lumumba, whose male genitalia holds countless condoms. The kids marveled over the statue and took pics. Now, no one strays into the Elephant yard and tickles the elephants'balls and gets away with it…The Lumumba boys jumped on the opportunity to tease an unsuspecting brother. In an instant the gate was locked and a quasi army surrounded the kids, speaking hall slang and in Swahili demanding for identification,the kids whisked out high school IDs to the bemusement of the Lumumba goons.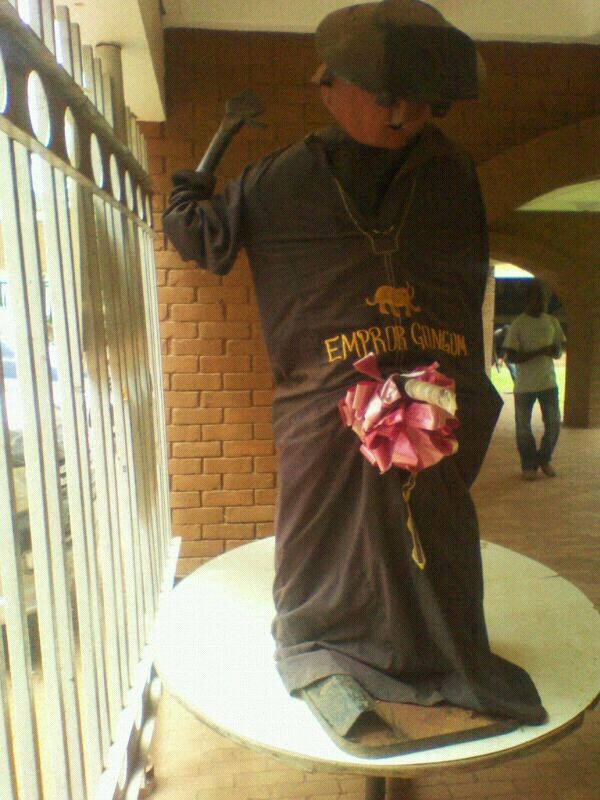 On conforming their fears, they confiscated the the IDs, and charged the kids with ;
1. Criminal trespass
2.Subversive activity contrary to the peace, quiet of the Hall
3.abusing the dignity of The statue
4.And tour fees.
The scared stiff kids parted with between 2k and 5k ,were threatened, made to squat and they asked to recite vulgarities. They then were asked to run for their lives, …the kids teary eyed were seen walking out crestfallen and disappointed cursing Makerere.