Madonna Hostel, one of the most loved hostels around Kyambogo University has slashed accommodation fees and renovated its rooms ahead of freshers' reporting in February, Campus Bee has learnt.
We can authoritatively report that Madonna owners have successfully kept the hostel's glow by elevating it to one of the fanciest cribs amongst university students.
Situated in Banda, the hostel not only accommodates Kyambogo University students but MUBS scholars as well. The hostel management made it more convenient for its residents by setting up dedicated shuttles for MUBS and Kyambogo.
Speaking of fees, well Madonna Hostel is affordable for all students with rooms ranging from 650k to 1.2m. The luxury hostel has double rooms at UGX 650,000, UGX 750,000 as well as UGX 850,000. Meanwhile, single rooms at Madonna go for UGX 950,000, UGX 1, 050,000 and UGX 1,250,000.
Following the financial hardships faced by parents in the COVID-19 period, Madonna Hostel management is offering reasonable credit terms to both freshers and continuing students.
"We also admit MUBS students and there's a dedicated shuttle for MUBS and another for Kyambogo. Even for MUBS fees don't change. " One of Madonna's staff told this news website.
Word around Banda has it that the renovated luxury Madonna Hostel will this year attract both the elite, slayers, and the cool kids from humble backgrounds.
Check the flyer below for details and how you can secure yourself a room at Madonna.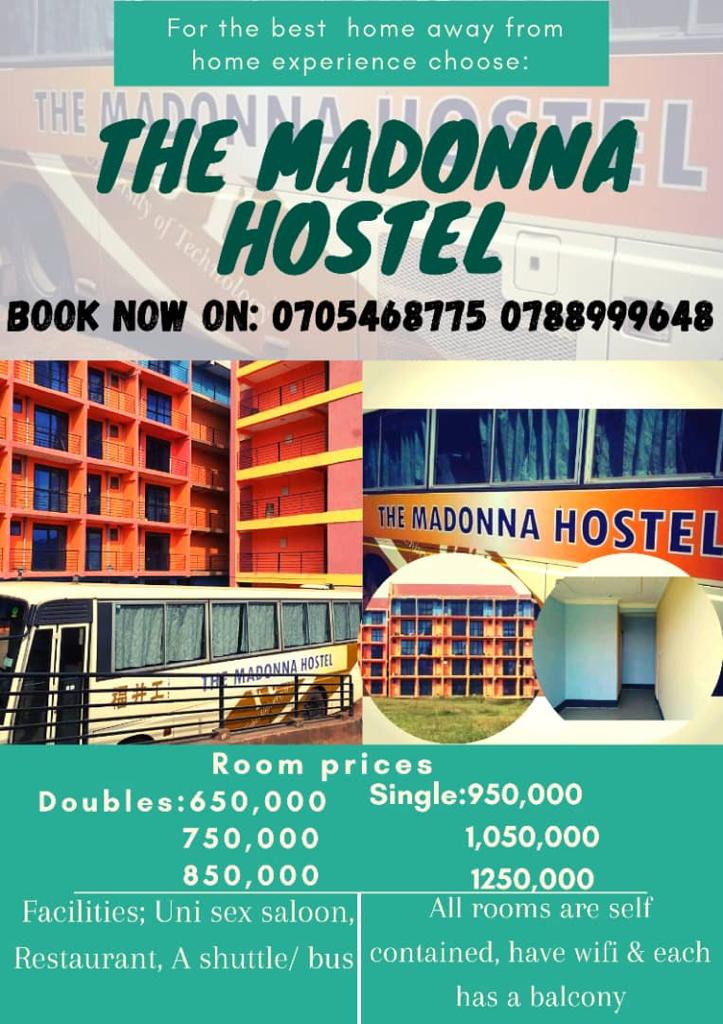 Comments