The speaker of the Makerere University students' guild government and fourth year law student, Isaac Ssenteza Kwagala has threatened court action over an ongoing online campaign that he believes is being mastered by his opponents in the race to the position of speaker in the Uganda National Students Association (UNSA).
The campaign that has washed over online communication platforms, according to him, is intended to brand him as a "yellow boy" and a corrupt individual very much contrary to his much held principles and independent mind in regard to student leadership.
He believes the attempt to paint him as such is a desperate attempt by his opponents who have failed to clearly present solutions to UNSA problems – a thing he has concentrated focus on.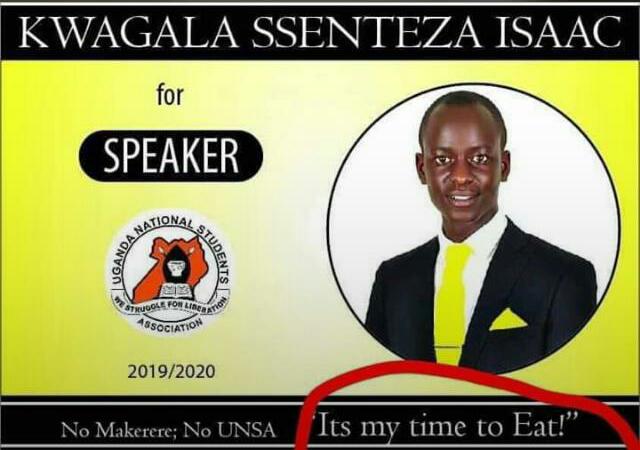 In the campaign, individuals designed a yellow poster for him and have circulated it on numerous platforms running under the slogan "It's my time to eat".
Kwagala affirms that he has already instructed his lawyers to take up the case and that in the coming days, the courts will hold the offenders to account.
"Politics ought to be a competition of ideas; not a field to character assassinate and smear those with whom you do not agree with, or those who you find opposed to you in a political contest. Democratic elections should be decided on ideas and the track record of candidates, but lies, slander and cheap talk, something that appears not to resonate with my opponents, possibly because they have no solutions to UNSA's problems" a statement from Kwagala reads in part.
The individuals that have clung on the campaign however, insist that nothing will deter their efforts to block Kwagala's candidature as they hold him solely responsible for the increase of tuition at Makerere University and vice chancellor Prof Barnabas Nawangwe's approach to student activism.
"We expected the speaker to protest with us against the baseless student suspensions but he was nowhere to be seen. You're our enemy if you were silent in the face of injustice" a Makerere student who preferred anonymity told Campus Bee.
The UNSA elections that were scheduled for 9th to 12th January at Mbarara High School in western Uganda, were called off pending a court case challenging their legitimacy.