Makerere University students at the Law school have ushered in a fresh committee to oversee the operations of the Moot Society.
The Makerere Moot Society is an affiliate and integral part of the mighty school of law at the hill owing to its previous successes at different Moot competitions – locally and globally.
The Speaker's Chambers of the Makerere Law Society was delighted to announce that on Tuesday 14th June 2022, the Makerere Moot Society elections were successfully conducted and a new Executive was duly elected.
"The new Executive shall be led by HE Edwin Sabiti (LLB III) as President and H.E Lawrence Alado (LLB II) as Vice-President," the society announced.
The speaker went ahead to thank the students for observing discipline and ensuring that the process was carried out smoothly and in a fair manner.
The new team that shall make up the Executive of the Makerere Moot Society is as follows:
President-H.E Edwin Sabiti (LLB III)
Vice-President – H.E Lawrence Alado (LLB II)
General Secretary – Birungi Primah Elizabeth (LLB II)
Organising Secretary – Elly Ankunda (LLB II)
Publicity Secretary – Cindy Karunga (LLB II)
Treasurer-Jordan J. Mugabi (LLB II)
First Year Representative-Onan Felix Olindi (LLB I)
More details attached below;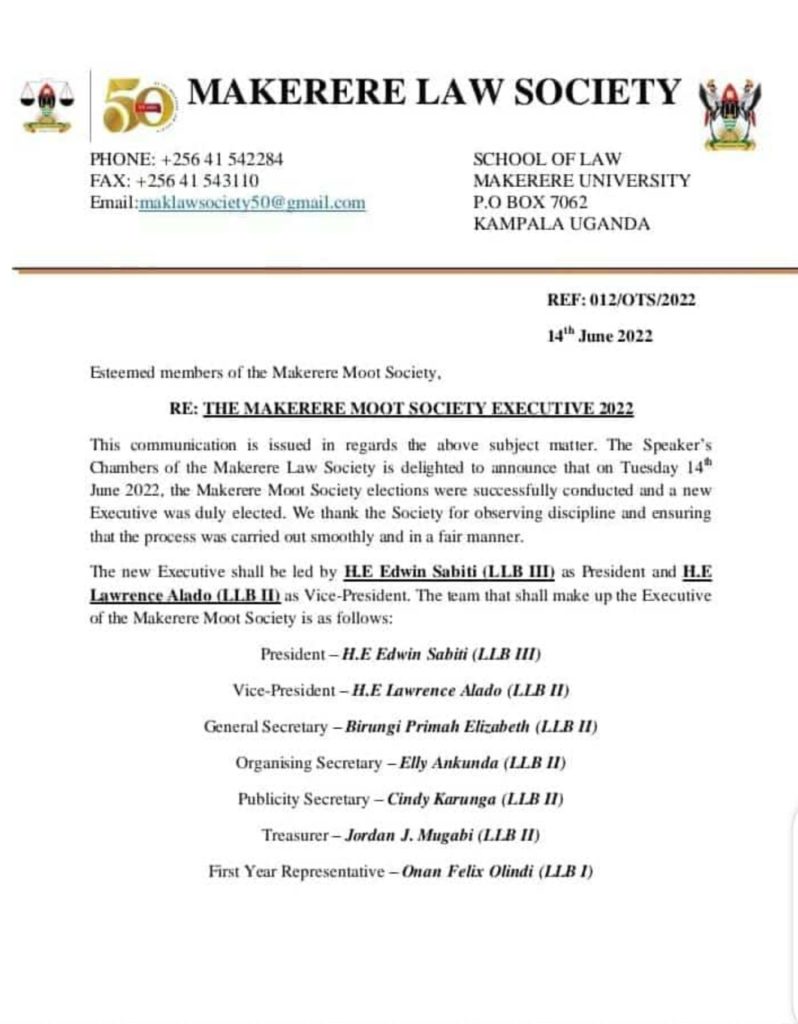 Comments