Exactly one week has passed ever since Campus Bee broke the internet with a story and picture of Henry Ssuubi, a first-year student who was seen making his way to Makerere's University Hall (UH) while currying a metallic suitcase and an Ousofia bag.
The story was followed by thousands of sympathizers who have been pledging to support the struggling student both financially, mentally and materialistically. However, following a brief interview between Ssuubi and Campus Bee, we discovered that the popular fresher has not received what online folks promised.
According to Ssuubi, he was surprised to see everyone giving him attention, adding that he has not yet read our story due to lack of a smartphone.
"I hear that people have given attention to my story on Campus Bee, but I have not read through yet because I don't have a phone that enables me to see those things. I have also heard people say that someone gave me a phone which is not true. I have not received it." Ssuubi said.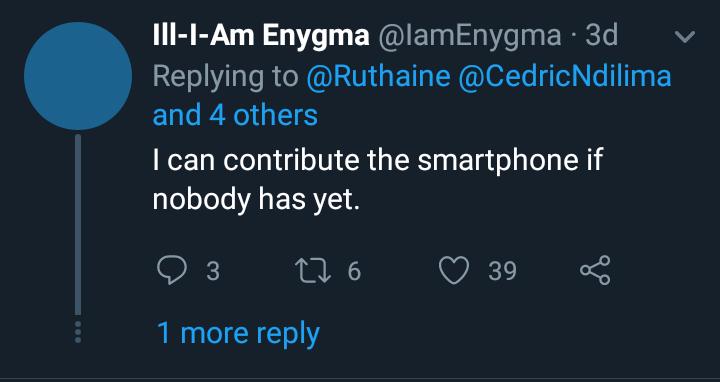 Makerere University Head of Digital, Mathias Ssemanda yesterday took it to his timeline to attack the app's users who have been talking about donating phones and other items to Ssuubi. The bitter Ssemanda further asked whether they can't just deliver what they are promising because the boy has no smartphone as alleged.
"You know Ssuubi's address is University Hall but you are on the TL telling us how you have an iPhone to give him but you want to know how to. Can't you deliver it to University Hall? How come Ssuubi still holds the same ka-phone yet I have seen over 20 people pledging phones?" Ssemanda tweeted.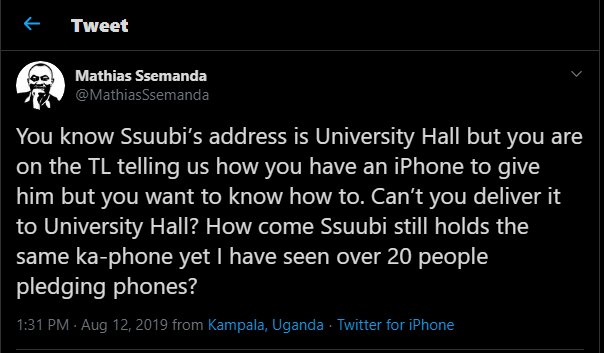 So many twitter and Facebook users, some of whom we were not able to include in this write-up pledged to give Ssubi smartphones but up to now, the man still uses his small phone.