Kakuru Simon, the former Prime Minister, School of Education at Makerere University has unveiled plans to go higher, politically speaking. In his Easter message sent to fellow Mbarara citizens, the second year education student made it public that he will be running as the LC.5 councilor for Rwanyamahembe, Mbarara District come 2021.
Kukuru, who was once the President MBAMUSA ( 2018-2019) termed his next move 'mature politics' while announcing his plan to continue representing Mbarara . Kakuru will be running under the ruling party NRM, during the next general elections 2021.
Currently, Kakuru is the chairman of electoral commission at the School of Education and has already secured support of his fellow students to run for the councilor position.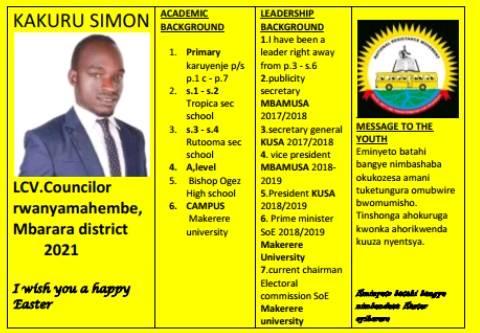 Singer and Member of Parliament Robert Kyagulanyi alias Bobi Wine has over the years been preaching to young people about contesting for top positions and Kakuru happens to be among those ready to represent the 'Bazukulu' aka  Silent Majority.
We will keep you posted!