A Makerere University third year student is selling "anointing oil" from Israel to all students willing to pass their ongoing end of semester examinations that commenced last week on Monday.
According to third year Political science students at the hill of the intellectuals, the unnamed student, who posted in their Whatsapp forum, is selling this anointing oil at Shs20,000 and he "smears it on the forehead" of his unsuspecting 'clients' to gain miraculous knowledge.
One of the students who purportedly "placed his order" asked for a full Jerrycan of the "anointing oil" insisting that his head is blank and needs a full jerrycan to "shower on his head" as he has spent the better part of the semester going with friends and barely attending lectures.
See screenshot below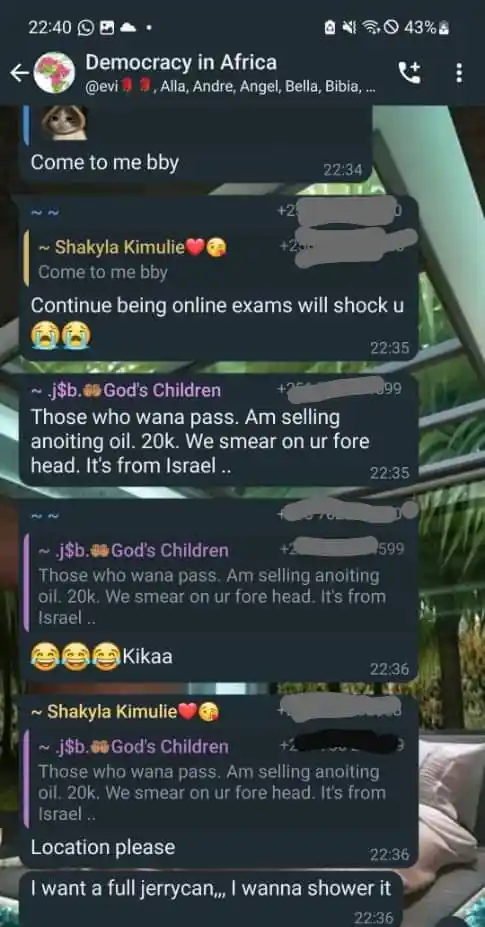 Editor's Note:
Showering of anointing oil to gain knowledge is not a scientifically proven way of passing examinations. We strongly advise university students to always attend all class sessions, pay close attention to the lectures, and take notes in a way that makes sense for you. The goal is to be able to understand your notes when you review them later towards examination season.
In addition to making friends, forming study groups in each of your classes is a valuable—and fun—way to review for tests. Working together helps develop good study habits, increases collaboration on group projects, and boosts confidence.
Comments