The long awaited Makerere University guild election that had been crippled by petitions over non-qualified candidates and bribery allegations has finally been settled and marked for Wednesday 14th March, 2018.
After a yet to be established individual petitioned the Academic Registrar questioning the academic statuses of candidates Bruno Bayube and Silver Kent Lwamaza, the former has been scrapped off the list and the latter maintained in a nomination reshuffle ahead of the election.
The new list leaves only 15 candidates now including NRM's Prize Ahimbisibwe, DP's Edward Kinene, FDC's Fredrick Chiluba and Independents Fred Andama, Dam Isabirye, Patrick Kamyuka, Joe Kasumba, Silver Lwamaza, Florence Namuganza, Samuel Nuwataho, Johnson Obbo, Arnold Ssemanda, Andrew Taliwaku, Henry Turyasingura and Salim Were.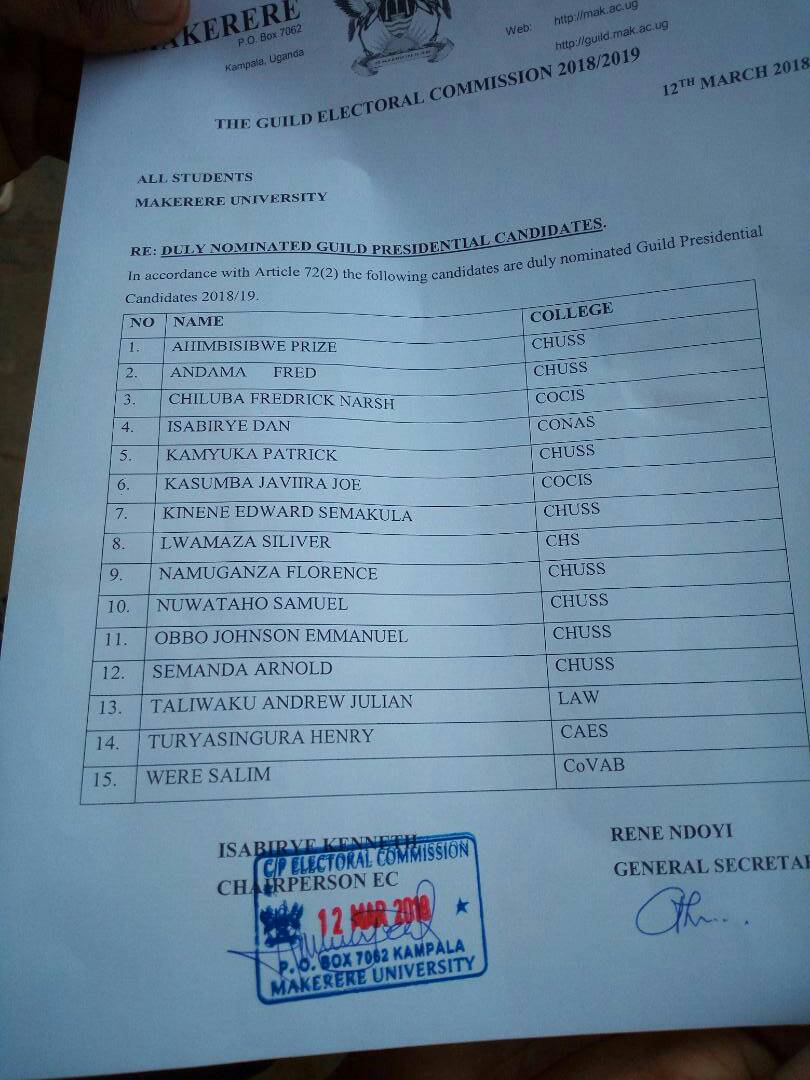 Those have gone through the extra verification to make them very eligible for the contest.
In a communication introducing the above, the chairman of the Electoral Commission, Isaac Kenneth Isabirye also maintained that voting shall take place on Wednesday 14th March, cancelling out rumours for a possible Friday election.
Isabirye took office after the former office holder Peter Makumbi was implicated in nasty corruption scandals and he resigned pending investigations.
As of press time, registers were being pinned at the various schools for the voters to cross check their validity before the d-day.
On Tuesday at 3pm, there shall be the final guild rally in the Freedom Square, that shall be the final rallying ground for all candidates as they get ready for showdown om Wednesday the next day.