As Makerere University continues to hunt for remedies to the existing students political crisis, the constitutional review commission has commenced with work.
The students' constitutional review commission has called for opinions from students regarding the process.
In a letter shared with this publication, Kiggundu Muhammed, the commission's chair advises students to read the guild leadership statue before making submissions.
"We strongly advise all students to read the guild leadership statute as they prepare their submissions which will ultimately form the concrete basis for the review process," part of the letter reads.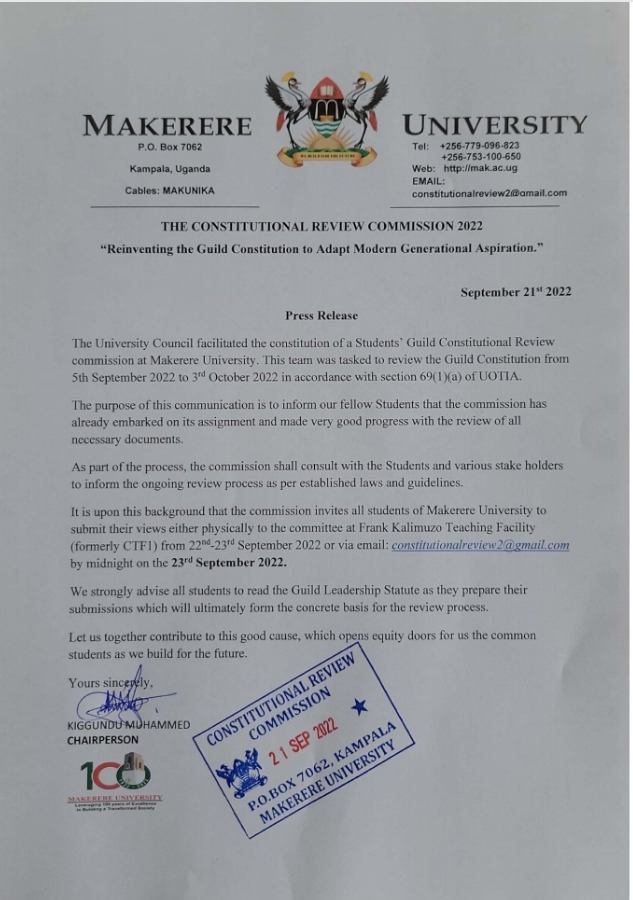 Makerere University students can submit their views online or at the commission's office at Frank Kalimuzo Central Teaching Facility.
Submission of student views ends on Friday September 23, 2022.
The constitutional review commission was created to aid in the amendment of the students' guild constitution.
The root cause of all this being the 88th guild election scuffle in which a UCU student lost his life.
It should be remembered that after the death of Bewaate – the UCU law student, Makerere University council suspended guild elections and the guild leadership.
Thereafter, the council deemed it fit to have the Makerere students guild constitution amended.
Comments