Makerere University's final year student Ms. Lilian Ayot pursuing a Bachelor's Degree in Journalism and Communication was Sunday Morning crowned 2022/2023 Miss Tourism West Nile.
She won other eight competitors in the race and was announced the queen of West Nile in the wee hours of today morning at an event held at Vintage Lounge in Adjumani district.
According to Ayot, her first initiative as the new Miss Tourism of West Nile  will embark on selling her culture to the rest of the world.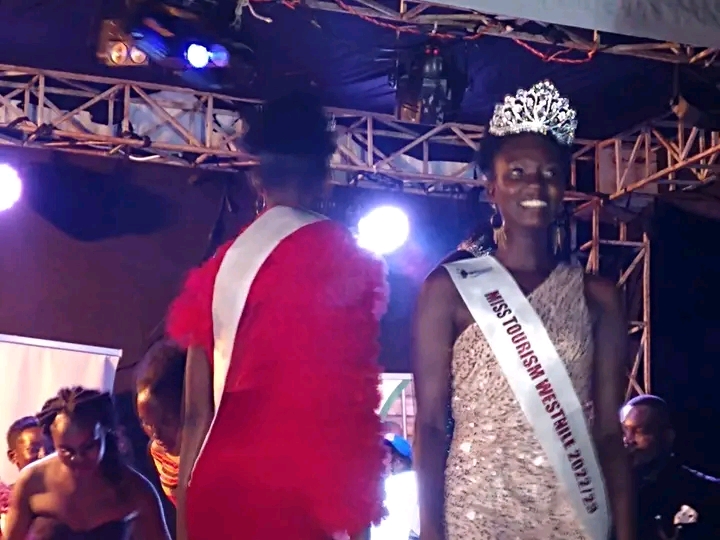 "I am feeling so excited because anybody could have taken the crown. I will make sure that the beauty of West Nile most especially our culture is  known. Our traditional dance, food and beautiful tourist sites are a few things I am going to sell to the rest of the world," she said.
On the same note, she thanked all those that showered her  with love by casting votes in her favour on Facebook and Instagram where they were first subjected to voting to get miss popularity from where the three queens were selected.
"I would like to thank God for everything he has done. I send my sincere thanks to you all who supported me and for the undying love you showed me right from  day one."
Ayot was awarded with a cheque of shs 1m.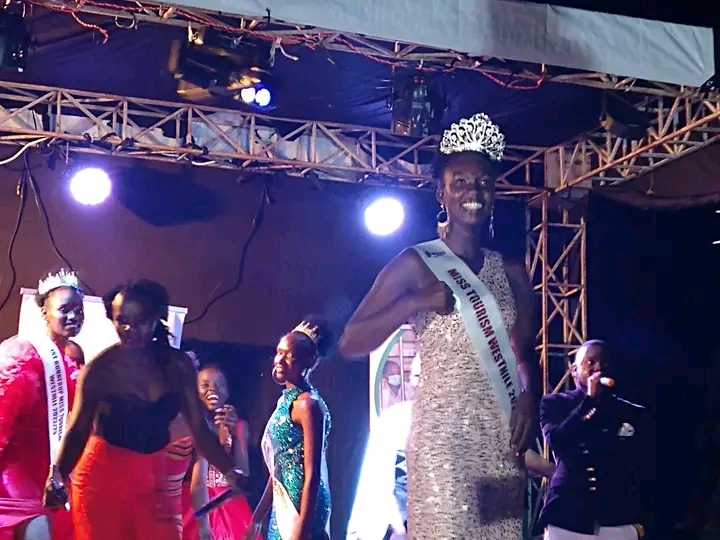 She was followed by Ms. Patience Desire Ayona, a born of Koboko, and a final year student at Mulago Paramedical School pursuing Environmental Health Sciences.
She pledged to lift her home district high and make it known to the world, "Because of the love for Koboko district, I will make sure that I represent it well to the world."
Ms. Lilian Kwiyochwing who hails from Adjumani was crowned the second runner up. She is a second year student at Makerere University pursuing a Bachelor's Degree in Industrial and Fine Arts.
She vowed to advocate for rights of young girls and reduce on the numbers of early pregnancies registered in Adjumani district.
"For my district, there are many early pregnancies. I Will make sure that those numbers are cut. I also realized that my tribe of Alur is not known out there, so my aim is bringing on board Alur Miss Tourism contest and I create an opportunity to young girls, I will teach them a lot of things," Ms. Kwiyochwing noted.
Ms Lenia Freda, a 2nd runner up of 2021 West Nile Miss Tourism promised to mentor the new crowned queens and groom them in to strong ladies, "I want to be like a mentor to our new queens of West Nile such that if they go out there to represent us, they make us proud"
The winners to this contest will represent West Nile in this year's Miss Tourism Uganda competitions.
The Miss Tourism West Nile contestants included Enid Kacwinyrwoth from Nebbi district, Lilian Kwiyochwing (Adjumani), Lilian Ayot (Arua district), Charity Rubaya (Obongi), Patience Jemimah Aber (Adjumani), Gladys Masudio (Adjumani), Gloria Awezi (Arua city), Emina Gift Lele (Adjumani) and Patience Desire Ayona (Koboko).
Comments