Makerere university finalists and first year students that were officially received back into the university for physical learning on November 1st following a decision by the president of Uganda to have higher institutions of learning reopened seem to have run out of time.
It should be noted that most universities opted for a phased reopening and at Makerere university, finalists and first year students were prioritized. These had to be at campus for three weeks and then leave to create room for another cohort to get in.
Following such an arrangement, finalists that finished exams together with first year students have been shown the exit from halls of residence. This comes after a communication from the dean of students calling upon all finalists and first year students to vacate hall premises.
These are expected to have vacated their halls of residence by 27th November to create space for second year students and non-finalists as they resort to learning online like the latter had been doing.
Students with disabilities have been exempted together with a few students from the college of health science that are yet to finalize their exams.
Howbeit, close sources reveal that non-finalists have been in halls of residence all this while and in the same way first year students are not yet to pack their suitcases in order to leave halls of residences from where they get leave from the hectic home chores they are compelled to do while at home.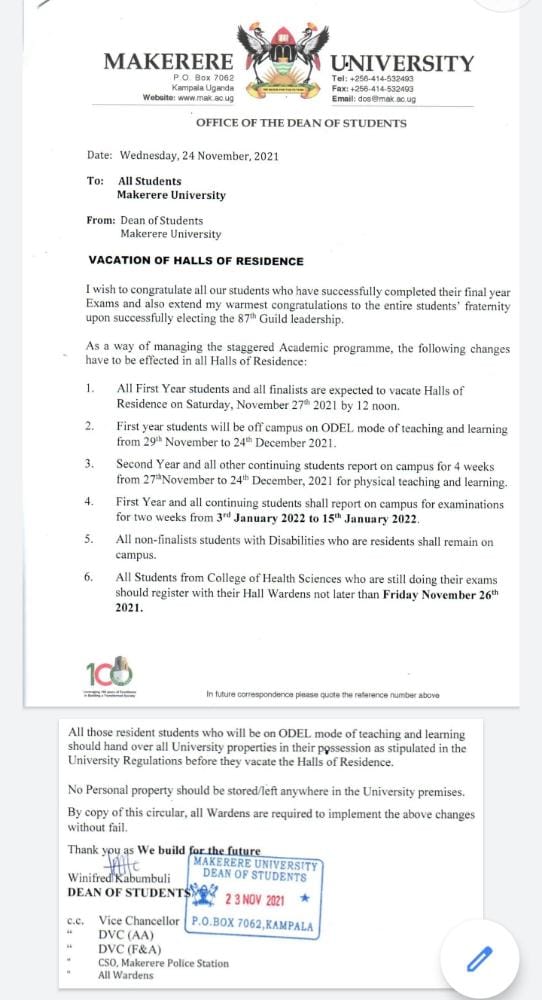 Comments