Uganda's top seeded university, Makerere, has today announced another deadline extension for interested applicants wishing to join the ivory tower.
Makerere University confirmed the extension of applications for undergraduate admissions for government and private sponsorship for 2022/2023 academic year in a letter from the Academic Registrar.
"The Academic Registrar, Makerere University, informs all intending applicants for Government and Private Sponsorship for all entry schemes who wish to apply for Undergraduate programmes for the 2022/2023 Academic year that the deadline has been extended to Thursday 18th August, 2022," the letter reads in part.
The announcement comes after the expiration of the initial deadline date of August 5 to allow more students utilize the chance to join the institution.
The Academic Registrar further hinted on the application procedure for applicants wishing to join the School of Law.
"Applicants wishing to be admitted to Bachelor of Laws are required to make two applications; one for admission at a non-refundable fee of UGX.50,000 (private)/52,000-(government) and another one for pre-entry examinations at a non-refundable fee of UGX.110,000= before picking the application form from office 505 Senate Building, Makerere University," the letter added.
Applicants who have already applied need not apply. For any additional information, refer to the Undergraduate Announcements and requirements from the university website (www.mak.ac.ug).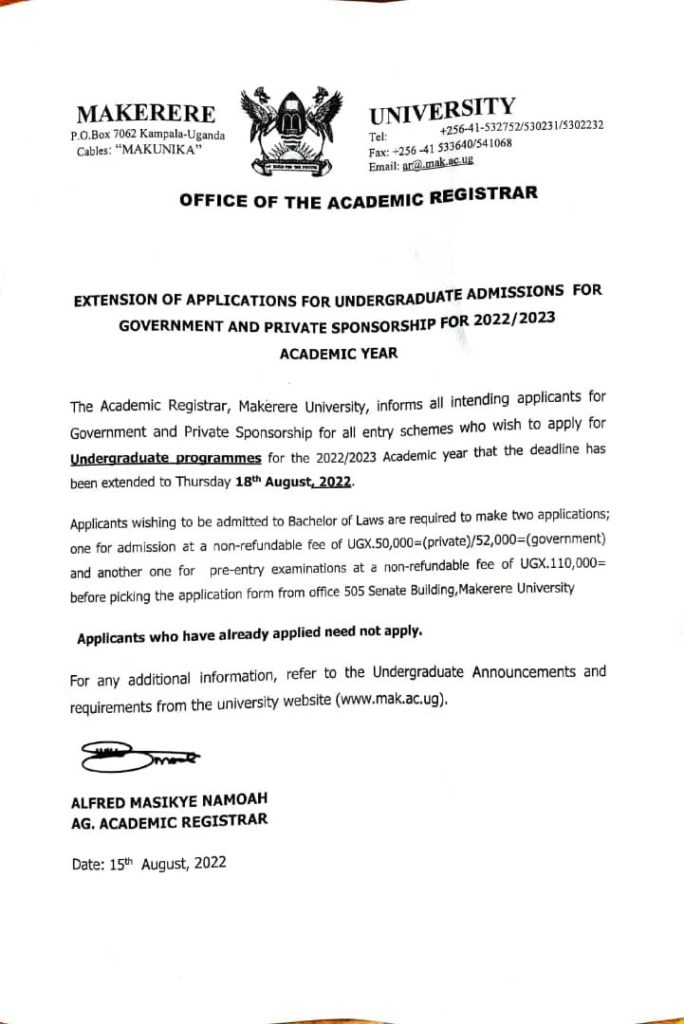 Comments