It will be recalled that in accordance with the communication from the Academic Registrar of Makerere University, Mr. Alfred Masikye Namoah, dated 0ctober 25, 2021 a new academic calendar had been adopted by the University management in light of Semester I and II Examinations for the Academic Year 2020/2021.
According to that calendar, examinations for semester II for all first year and all other continuing students would end on Saturday, January 15, 2022. Accordingly, the Academic Year 2020/2021 at Makerere University will be coming to a close tomorrow.
It is on that note that the Dean of Students of Makerere University, Mrs. Winifred Kabumbuli, has in a letter to the students fraternity, intimated a number of guidelines that are to be followed, as the semester, and in extension the academic year, comes to a close.
According to the new guidelines, all students who are not on recess should vacate the halls of residence on Saturday January 15, 2022 by 6:00 pm. Secondly, all students on recess term and residing in the Halls of Residence should register with the Office of the Warden with immediate effect. Thirdly, Hall administration has been implored to ensure that these guidelines are implemented.
Ultimately, all wardens of halls of residence have been requested to submit lists of students on recess term so as to enable the Dean's Office process the allowances for government students and also charge the private students for the accommodation during the recess term.
Kindly find the full communique below;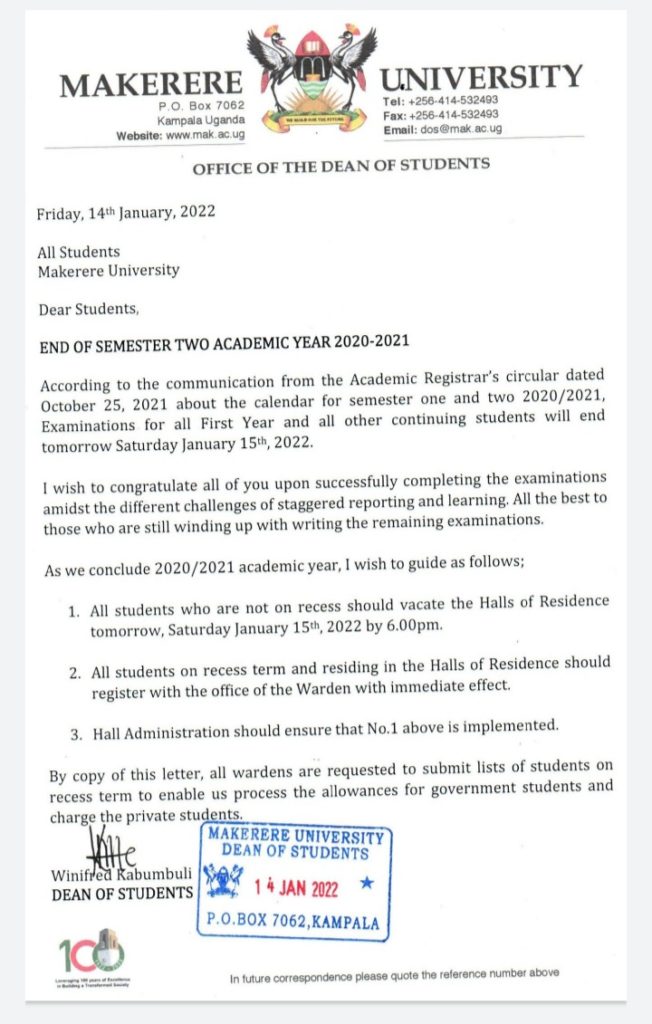 Comments