Before any student joins campus, he/she expects to start living in an executive life so as to forget the life of dormitory deckers in high school, however, a few have been able to realize this dream. Some students are forced to reside in university halls of residence where they find themselves sleeping on deckers again while others opt for cheap accommodation in areas especially slums around their respective campuses.
However, as the saying goes ''this life no balance'' a recent survey carried out around Makerere University hostels has revealed that students spend much more money to reside in executive apartments than what they spend on tuition and other scholastic needs.
The survey which was carried out by Business Focus Uganda has revealed the following;
While the average tuition for programs at Makerere is one million shillings, some hostels within the precincts of Makerere, charge up to two million Shillings for a semester. These are constructed with tiled floors and large glass windows and each of them has a mini shopping centre, ample parking, a canteen, pool table, a restaurant and pay-TV services.
Olympia Hostel, one such facilities along Kagugube Road also has a swimming pool, gym, kitchens on every flow, and provides free Wi-Fi for students. For instance, a double room (one room with two-bed spaces) at Olympia Hostel goes for 1.1 million Shillings per person while a single room goes for 1.7 million Uganda Shillings.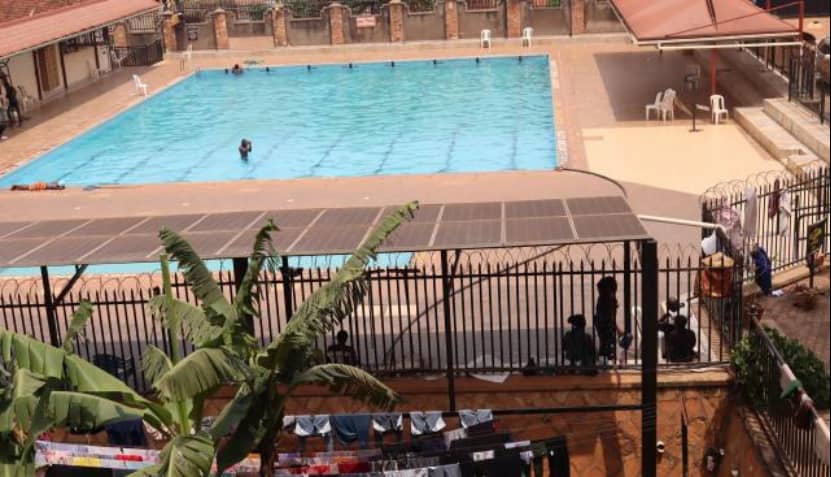 At J.J Hostel, a room is two million shillings. This also comes with restricted access for non-residents as a guarantee for security for those who can afford the cost. The higher the cost, the more lavish and private the facility is, yet students here have also invested in the expensive interiors which oftentimes makes their rooms look like luxury suites.   Students here own top-class home theatre systems, Television sets, woolen carpets, and nice household equipment.
In contrast to their counterparts who pay for rentals at an average of 150,000 Shillings per month, students in high-end hostels say that the residences create a comfortable environment for good academic performance. Reagan Okumu, a resident of J.J hostel and student of Quantitative Surveying said that he found the place affordable because he gets to access services offered like free premium DSTV where he can watch programs of his choice.
Unlike most rentals where double rooms are in reality one room with two-bed spaces, for J.J Hostel, the two rooms are partitioned separately under one roof and the double room has a kitchen attached to it. Robert Bryan Okot, another student at J.J hostel told our reporter that he prefers the kind of hostel setting because he gets to have a room to himself, unlike rentals which are usually crowded.
Michael Stanti, a resident of Olympia Hostel at Makerere University explained that security at the place is what has kept him there for over two years. At this hostel, non-residents are required to present a copy of their identification cards, in addition, to strictly being picked by their hosts from the gate before accessing any student's room.
The hostel also uses smart cards instead of door keys to lock and open doors which makes it hard for strangers to break in. In addition, Juliet Bogere from New Nana Hostel reported that residing at the hostel has made it convenient for her to access utilities that are available at the supermarket as part of the premises.
New Nana, the other student's hostel in the same league has a medical clinic, boutique and a restaurant attached to it with delivery services to the student's rooms. At these hostels, students spend between 5,000 to 10,000 Shillings per meal.
Angel Matitwa, a student, resident at Olympia Hostel said that the clean and peaceful nature of the place makes it easy for her to host her friends for celebrations.
"I enjoy the ambience of the place because even when I host birthday celebrations in my room, it is spacious and clean enough for my visitors. Other hostels are crowded; you can't wish for visitors to use bathrooms there."
The hostels also offer shuttle services at strategic times to carry students to and from the university campus at lectures hours and breaks.
Comments