Makerere University has through the years garnered imense attention in not only the academic field but also in unimaginable spheres with unmatched excellence.
The nation's pride has pondered on the year 2022 as a milestone both numerically and immeasurably in terms of success since its establishment a century ago.
Makerere University's success story is too enormous to be celebrated in a particular momentus epoch.
Year long, the university has through a series of occassions commemorated its existance with countless events like dinners, public lectures, thanksgiving and many more to accredit the contribution of reputable alumni, administrators and all contributors who left an indelible mark.
News reaching this publication however, indicates that the organizing committee for the MakerereAt100 celebrations has circled out 6th October as the D-day to wrap up the observance.
The alma mater to a legion of the successful has finally set the date and stage (Freedom Square) to accommodate a few that will make it to the shortlist.
Opening its doors to 14 day students in 1922, Makerere University has grown to become one of the most prestigious Universities in Africa.
This celebration marks the end of a century of excellence, and offers a chance to look beyond, with the theme; "Leveraging the 100 Years of Excellence in Building a Transformed Society."
According to the Central Organising Committee, attendance is in person and by invite only.
The committee is tasked to coordinate and provide strategic direction to all planning and execution of the Centennial Celebrations.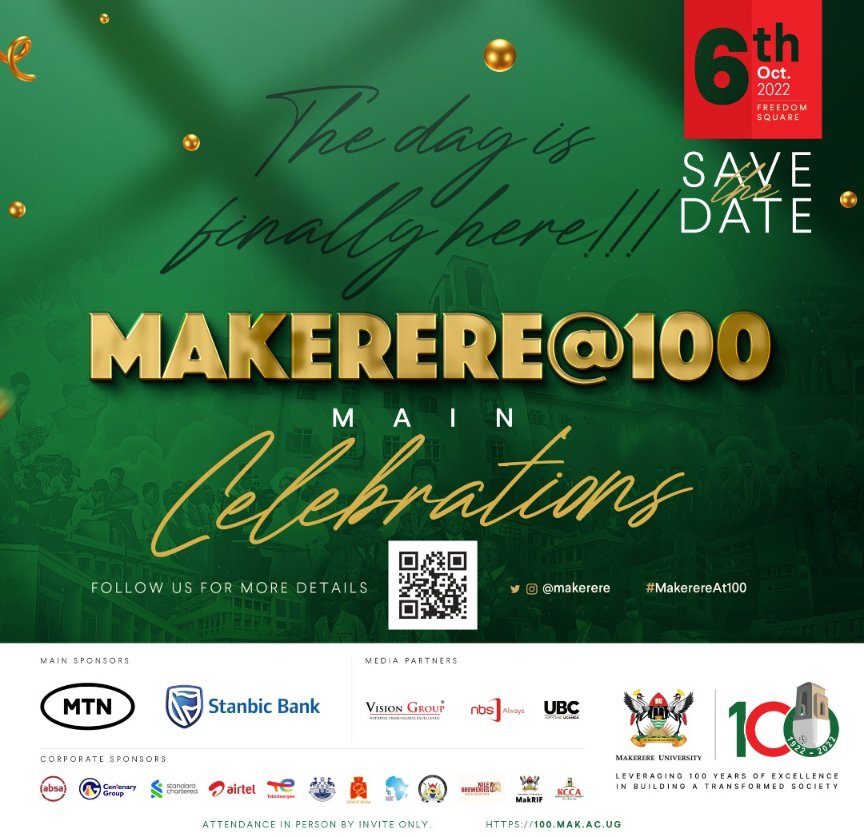 Comments