Makerere University Vice Chancellor Prof. Barnabas Nawangwe on Monday, August 1, 2022 indefinitely suspended Sulaiman Namwoza over organizing an online meeting of students and students leadership last week.
Namwoza is a third year student of Bachelor of Medicine and Surgery and doubles as the Speaker of Lumumba hall.
According to the Vice Chancellor, he conducted an illegal online meeting with students and students leaders on Friday, July 29, 2022 breaching the council resolution to suspend students leadership.
"This meeting was in contravention of Resolution No. 3 of the University Council meeting held on 15th July 2022 which suspended Makerere University Students Guild Leadership and Senior Common Room, and all Student Guild Leadership structures," the suspension letter partially reads.
Prof Nawangwe added that while in the meeting, Namwoza allegedly directed the Chairperson of the University Council to reinstate the Students Guild Leadership well knowing the Council had suspended Students' Leadership at Makerere University.
"It is alleged you made resolutions tantamounting to misinforming fellow students." He noted.
The VC said that if the allegation turns true, Namwoza would have contravened Regulations 8(9) b(b) (III) inciting other students for unlawfull action.
Makerere University suspended the 88th Guild Elections and the overall Students Leadership following chaos that was exhibited between the National Unity Platform and Forum for Democratic Change camps on Thursday, July 14, 2022 that claimed a life of a one Betungura Bewatti who was a second year Student at Uganda Christian University- Kampala Campus.
He had come to Makerere University to support his high school friend Justus Tukamushaba who was vying for the 88th guild presidential seat.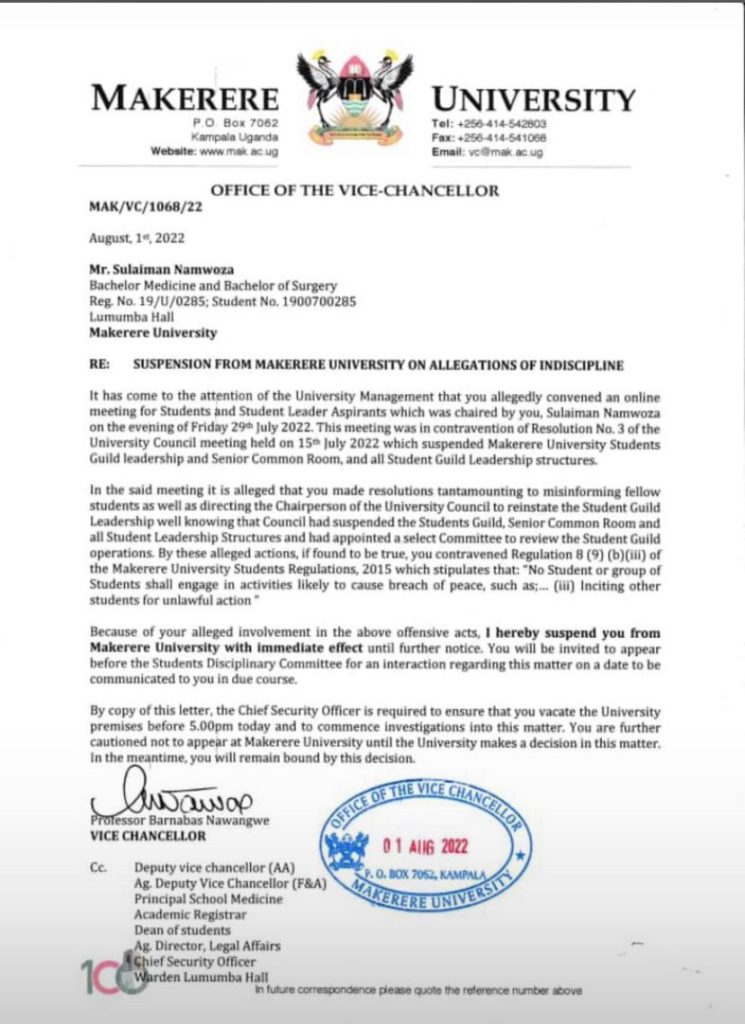 Comments