BY BERNARD MUBIRU
The 2nd edition of the White Coat Ceremony hosted by the Faculty of Medicine at Mbarara University of Science and Technology (MUST), marking the entree of the matriculating class of 2019 into 3 clinical degree programs took place on Thursday September 5, 2019 in the Pharmacology Lecture Theater.
Incoming students for the Masters of Pharmacy in Clinical Pharmacy, the Bachelors of Medicine & Bachelor of Surgery, and the Bachelors of Pharmacy respectively, were cloaked in their first white coats as a symbol of the trust bestowed upon them to carry on the noble tradition of patient-centered care. Thereafter the students took an Oath, pledging allegiance to the profession, as well as deepening their sense of obligation and dedication to service.
This induction ceremony that was chaired by the inspiring and soft-spoken Deputy Vice Chancellor Academic Affairs, Associate Professor Nixon Kamukama, and presided over by the Dean, Associate Professor Gertrude Kiwanuka, helps first-year students of these clinical programs gain a sense of the programs' core values of empathy, integrity, respect, and professionalism.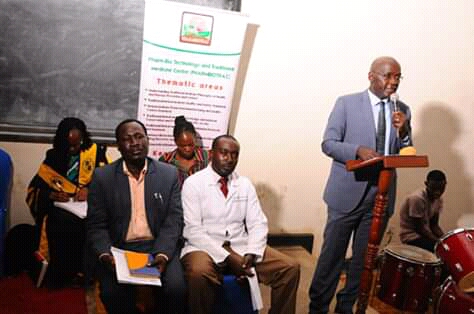 Of greater significance was the conspicuous presence of academics and healthcare professionals from across disciplines in the faculty of medicine, as well as members of the public.