Fresh off striking over delayed allowance, students from Mbarara University of Science and Technology (MUST) have announced "Bloody Friday" in protest of non-functional toilets and failure by the university to hold this year's freshers ball.
According to a statement issued by the Mbarara-based students, there will be a massive strike starting tomorrow, Friday, 11th March 2022 over the mentioned issues.
"According to the current situation in our University, we have decided to declare a massive strike starting tomorrow Friday 11th March till the concerned individuals rise and tackle our concerns." The statement reads in part.
The students have also vowed to strike over functional fees, poor students welfare, among other issues.
"We want the University and the Students' Guild to tackle the following issues as soon as possible; The stinking and non -functional washrooms and toilets, we need medicine in the University clinic, the dysfunctional sockets in lecture rooms, we want functional WI-FI, we want the FRESHERS' BALL VERY SOON." The statement reads in part.
The students, who didn't sign vowed to strike until their issues are solved.
Read their statement below;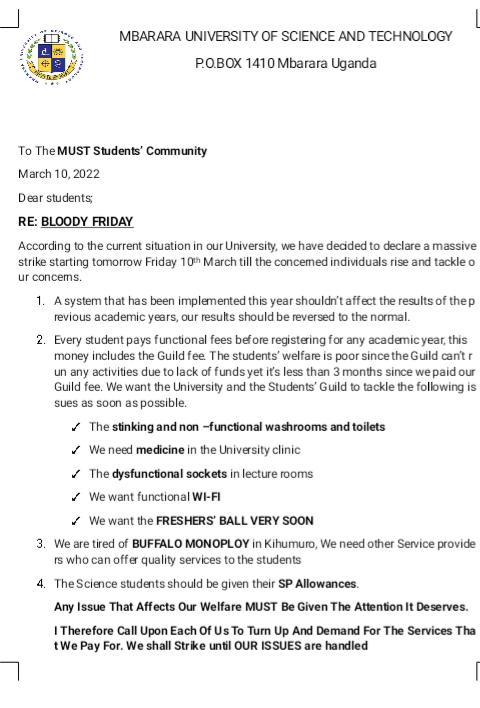 Comments