Close to a year back, we brought you Sharon Mbabazi, a university student who defied all odds to lay brick to facilitate for her tuition and earn a living. Being a male dominated job, many of her friends and people who lived around her always undermined her for doing such a job. Instead of using her body as many other campus girls do to get money, Sharon never minded about getting dirty all in all she was able to get fruits out of her hustle.
Sharon Mbabazi was among the 915 students that graduated last week on Friday 13 December, from Muteesa 1 Royal University at the main campus in Masaka attaining a Communications Degree. The whole Muteesa 1 Royal University fraternity has appreciated her great efforts that she has incurred for her education.
On speaking to her, she told the media that this was a dream come true because she had no hope of studying after loosing her mother at a tender age of 5 and she has been laying bricks for the last 13 years and this job has made her pay her school fees upto now that she has finished university level.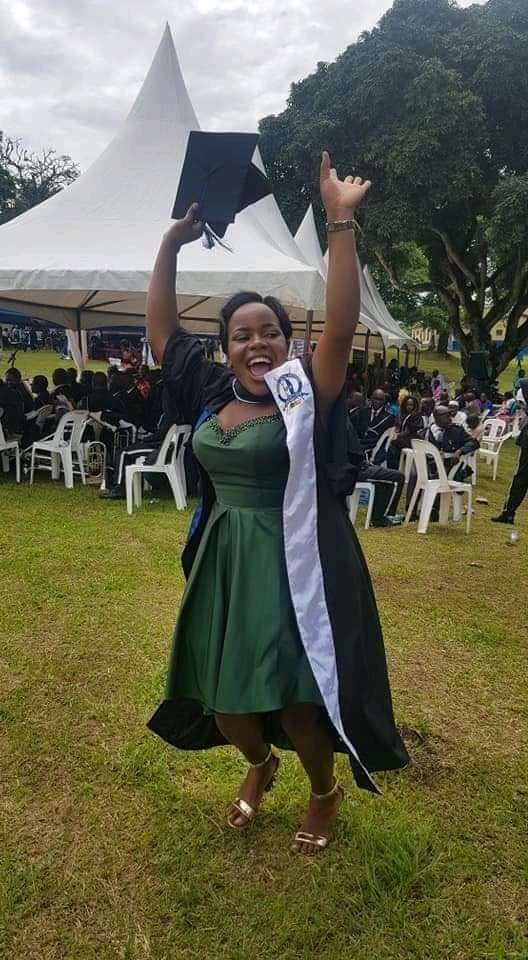 Sharon said that she will continue with her job until she gets what she always dreamed of and even after getting a job in a television company she will still lay bricks as her side job. She is really a good example of "hard work pays" and we wish her the best as she wishes to be a big television presenter.