As the re-opening dates for academic institutions in Uganda remain unknown, university students who were supposed to conduct their internship in the June-August intake are beginning to be affected.
The initial re-opening date for universities and other tertiary institutions was put on 2nd May 2020 by the Ministry of Education and Sports, this meant that students were to study up to late June 2020. However, this will not be possible since the government opted to extend the lockdown by 3 more weeks ending on 5th May 2020 to curb the spread of COVID-19.
This has attracted some organizations who had earlier on advertised internship placements for University and College students, to suspend this program till further notice.
In an email sent to all students who had applied to carry out their internship at National Social Security Fund (NSSF), applicants were notified that the June intake will not happen as a result of the ongoing crisis of COVID-19.
"We refer to the online assessment you did on 3rd April 2020. We regret to advise that in view of the COVID-19 pandemic, we shall not take on any interns in the June intake. A new plan will be issued in the near future. We regret any inconvenience caused,'' Reads the email.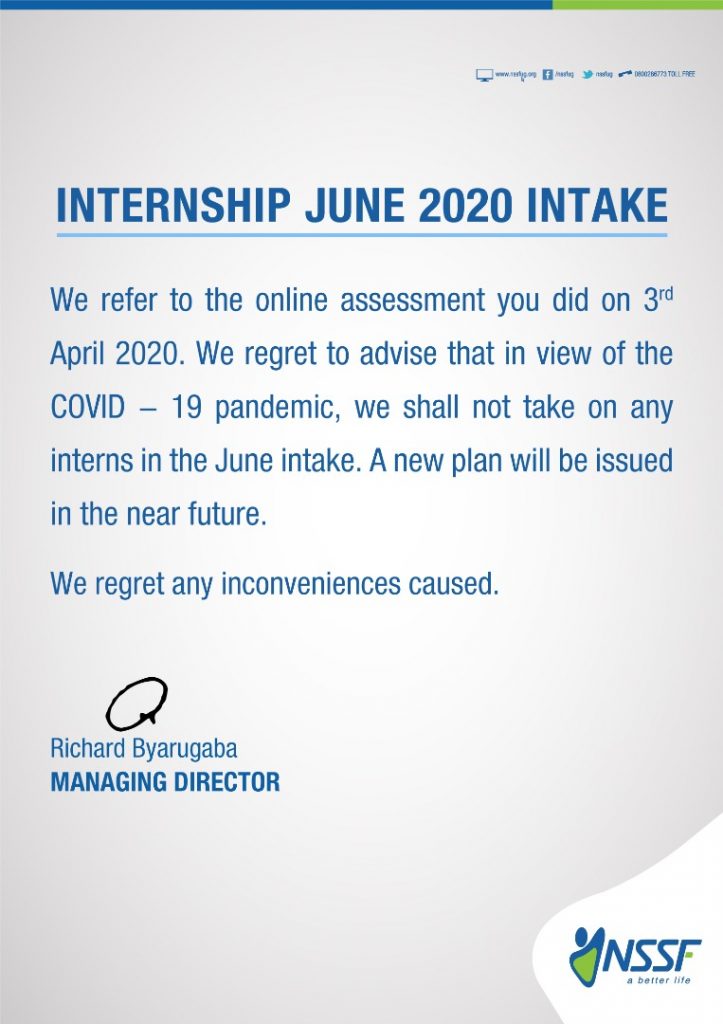 Vision group has also informed all its internship applicants about the cancellation of June-August internship intake through a statement posted on its Facebook account.
"In an effort to keep our communities safe and healthy during the current COVID-19 pandemic, Vision Group hereby regrets to inform all students who had earlier expressed interest that the internship program scheduled for June-August 2020 has been cancelled. Stay home, stay safe,'' the statement recites.