In a letter written by David Musiri, the National Unity Platform (NUP) Head of Institutions, NUP has intimated that its delegates list for Kyambogo University shall be unveiled at the NUP Kyambogo University 2nd General Assembly on Monday 18, 2022 at the Peace Park from 4:00pm to 6:00pm.
Furthermore, NUP has confirmed that the Guild Presidential Aspirants are required to submit an Expression of Interest by email to kyunup@gmail.com by Tuesday, 19th January 2022, at 12:00 pm.
NUP has further thrown light on the nature of Expression of Interest expected, to the end that it ought to include the name of the applicant, student number and registration number, program of study, faculty of study, year of study, proof of clearance of tuition to zero balance and proof of normal progress.
Additionally, the Expression of Interest must be accompanied by at least 100 signatures of endorsement and these signatures must be presented in hardcopy by Wednesday, 20th January 2022.
Kindly find more details in the official communique below;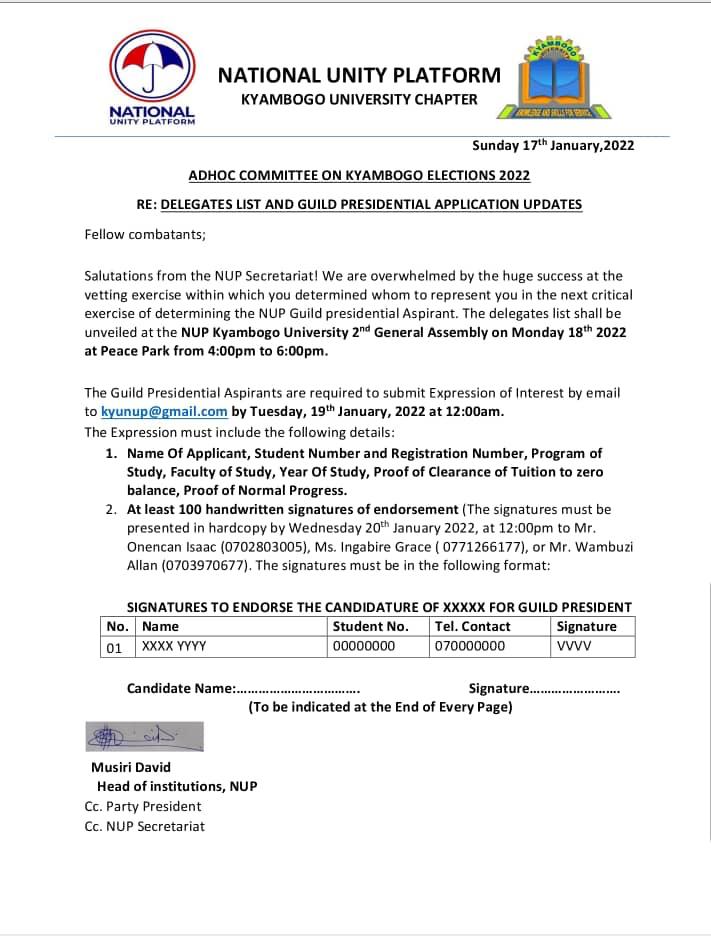 Comments