Professor Barnabas Nawangwe the Vice Chancellor at Makerere University says open distance learning is the future despite failure by students to embrace it.
Professor Nawangwe, while tweeting about his meeting with delegates from the International Council For Distance Education Opportunities on Friday May 20th, 2022, revealed that open distance education is the future for Uganda's education system.
"I have discussed with Juliane Granly of the international council for distance education opportunities for enhancing open and distance education at Makerere. Open distance education is the future," Professor Nawangwe tweeted.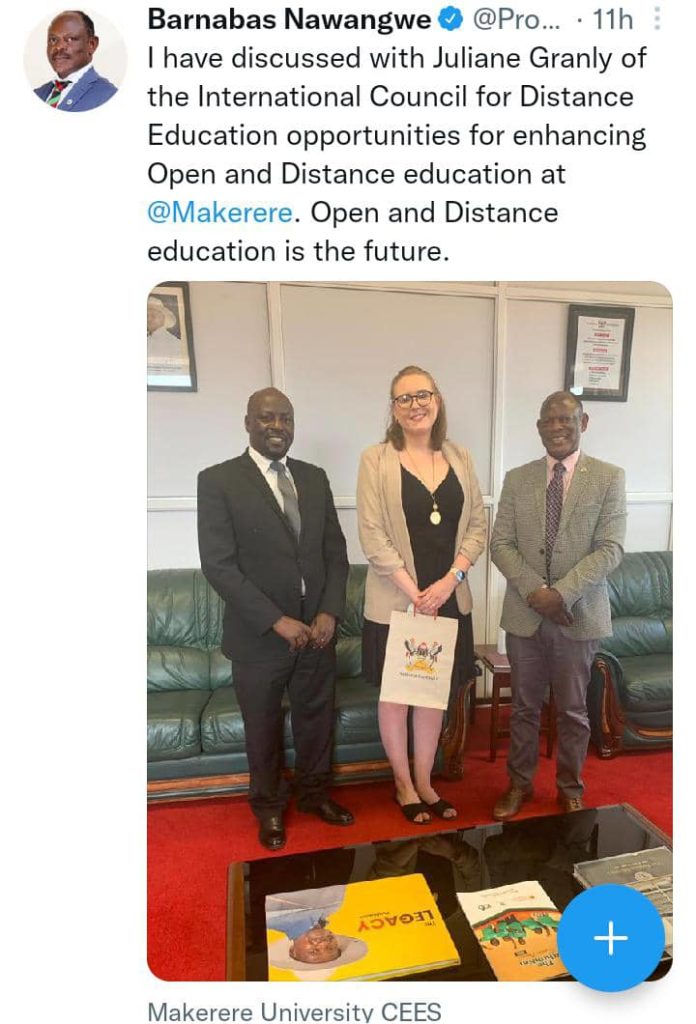 Professor Barnabas Nawangwe's tweet is an indicator that Makerere University will continue to embrace open distance learning.
Makerere University Council, in its 136th meeting, in 2015 approved a policy on open, distance and E-learning. However, the institution hadn't implemented this policy till of late when Covid-19 ravaged Uganda's education system leaving institutions without any alternative but rather adopting open distance and E-learning.
A section of Makerere University students weren't happy with this new policy and this led to the February 7th, 2022 'open for all' protests that were led by the 87th guild president Shamim Nambassa.
Despite post protest negotiations, Makerere University management still followed the staggered learning calendar which students had protested against with them (students) only being exempted to stay at their halls of residence as opposed to being home.
According to the Makerere University academic calendar, students will continue to study in a staggered manner come semester two academic year 2021/2022.
This makes only one explanation that, as VC Nawangwe notes- open distance learning is the future.
Comments