Dear ladies and Gentlemen,
I request that you read, analyse and interpret the contents of my letter to all those running for various posts in the Guild cabinet. All Guild president aspirants, GRCs, and council members, please listen to these humble words that masses have said but only an intellectual can pen.
It may be March but it's a new year so please spare us the old tricks, ancient campaigns and please bring something new to the table. Most candidates have tabled the same ideologies that aspirants from five years ago preached. Imagine what eating same type of bread for 5 years feels like. Don't tell us the same old 'Dumba must go' talk which we both know you won't achieve. As much as many hate him, removing him is a different thing altogether. Besides most of your competitors might say the same thing in public but have other motives at heart. The stunt of having taken the University to court should also stop because the sound of cheap talk won't influence voters this time.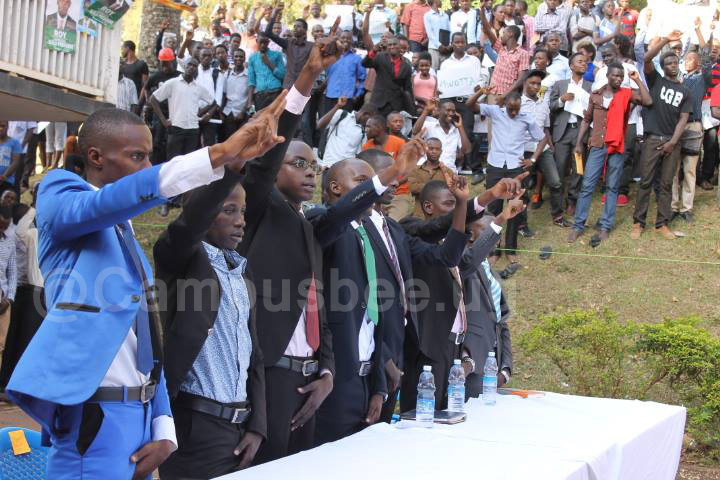 Speaking of ancient things, ditch those posters whose designs look like they were done by 60-year-olds who must have been sleeping. I am talking about the old style that have the words 'vote' on top, a photo in the middle, and there is a lot of clutter at the bottom. Hire good designers who will create a nice minimalistic concept that we shall love. If your campaign managers insist on 'eating' your money and choosing lousy designers, ask them to borrow a leaf from Amama's and Museveni's posters this year or even Obama or Besigye's but with a better smile.
Gallant candidates, please pin posters only where they should be pinned. For heaven's sake, don't glue your poster where my lecturer positions the projection on the wall because I won't see. Keep them outside my lecture room too. And for our sisters and brothers who reside in halls of residence, never f***ing place your posters on their doors without their consent because something like that can make me vote your opponent after tearing your poster. How I would love if you had a budget allocated to removal of posters after elections because those things look very ugly.
The ears of the voters have always suffered from the noise of campaign trails, mobile discos and vuvuzelas. Even during peak class hours like 9am, some aspirants portray ut-most selfishness and make noise near lecture rooms. Luckily, the MUK Electoral commission lets you campaign at night, use that time and never go beyond midnight. Plus, plan your campaigns accordingly and don't bombard us with random campaigns or attacks when your opponent is speaking.
And the good old chemicals need to stop this year. All the false propaganda you spread just to get opponents dirty. Let the voters decide and if you are spreading chemical please do it in a professional manner, don't copy cheap tabloid methods.
Every tuition payer gets annoyed when they hear talk about guild leaders swindling money. I kindly beg that if you are elected into power, leave our money alone…. afterall the university will give you a temporary car and several allowances that can keep you going. We don't care how much your campaign cost because we honestly don't care. But we shall always care about service delivery. Deliver your promises because you will be taken into the books of jokers.
Remember it's students that vote you and you must fulfill their demands at whatever cost. No one wants a guild president or leader that endorses policies that defy what students believe in. This is not your last political campaign so be careful of the things you do when in power!!!
But since you are not yet in power, please pay everyone you hire. In fact, don't forget to pay all your loans and service providers. It is quite shameful for one not to clear his dues. 
I also beg that all aspirants spare the legs of our beautiful girls. These gents are known to open many legs in the bid to promise ministerial posts. The ladies should also respect themselves and deter from the same because I will laugh when you are disappointed.
Allow me beg you to respect some cultures such as placing appreciation tokens in some baskets and generally buying some beer. It would however be better if the token as in form of something the community would enjoy at large because culture ministers are known to gallop contents of the culture box.
By the way, get online and don't blow content in our faces at once. Please send a few posts at a time. There is no need to flood WhatsApp groups with the same message more than once within an hour. Good content is key but remember too much content becomes nagging noise.
Otherwise, I thank you for reading this and I pray you abide by contents of this letter and don't forget to tell a colleague about what the voters want.
Comments