Following a directive by H.E Yoweri Kaguta Museveni to reduce on the subjects taught in secondary schools in December last year,  The Uganda National Examination Board (UNEB) has gone ahead on to scrap ten subjects off the O'level curriculum.
In a letter signed by Daniel Odongo the UNEB Executive Secretary,  subjects such as FasihiYa Kiswahili, Political Education,  Additional Mathematics, General Science, Health Education,  Electricity and Electronics, Power and Energy, Short hand, Type Writing and Office Practice will, with effect from this year, no longer be examined by the examination regulatory body,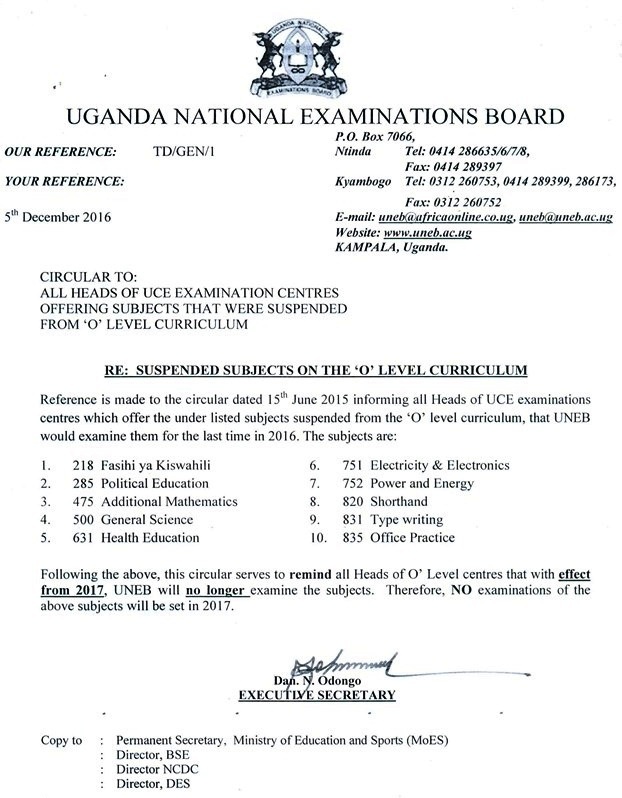 The body goes ahead to confirm to all heads of UCE Examination centers offering the subjects that were suspended from the O'level curriculum that no examinations of the aforementioned subjects will be set this year and the fore shouldn't be taught in schools throughout the country.
The President in a closed door meeting with all Public Universities Vice Chancellors,  Minister of Education and Sports, Janet Kataha Museveni and other senior stake holders at the Entebbe State house late last year agreed to reduce the number of subjects taught in secondary school's to reduce on duplication of content.