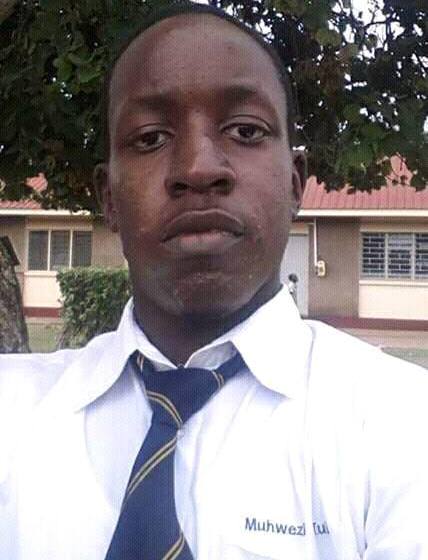 On Friday evening, a life of 19-year-old Tuk Bergen Muhwezi Junior was nipped in the bud by a speeding truck, registration number UAQ382K.  Muhwezi was knocked dead along Lugogo bypass as he crossed the road to join his family at Panamera for a meeting of a car wash that was scheduled for Saturday.
The car wash was meant to raise funds for Muhwezi's cousin, Jeremiah who is set to undergo a liver transplant in India. The jolly and full-of-life Muhwezi was coming from a youth fellowship at All Saints Church, Nakasero where he is one of the teachers in the Children's Church at All Saints. He was hopeful that the car wash (which was to happen the next day) would raise all the necessary funds to save his one-year-old cousin's life. The car wash unfortunately never happened.
Mathematics genius
Muhwezi was no ordinary teenager. When the 2016 UACE results were announced last month, the St Mary's College Kisubi student had scored 19 points; with an A in Maths, A in Physics, B in Chemistry, 4 in General Paper, and a 3 in Computer Studies.
He went to Kings College Budo for his O-level studies.
With a dream of joining Massachusetts Institute of Technology [MIT], in the US, Muhwezi set out to take part in the International Mathematics Olympiad Competition and emerged the third. Excited for a looming scholarship in his dream university, Muhwezi was set to travel to Morocco and Brazil for the same competition with an aim of getting a scholarship to pursue his dream course, Electrical Engineering.
"Dad, I shall travel for the competition and I shall get the scholarship," Muhwezi told his father, Prof Wilson Muhwezi, who painfully eulogized the short life of his first born on Saturday afternoon at All Saints Church.
Father lashes out at reckless drivers
"Our family, Uganda and the world at large has lost a young brilliant man. Junior loved everybody and everybody loved Junior. He loved mathematics and was sure he would get a scholarship to go study at MIT," Muhwezi's father added before lashing out at reckless drivers.
"My son's life has been taken by a reckless driver. We, Ugandans, are bad drivers. We need to reform. We treat those who are not driving cars like they're not human beings. Whoever is responsible for regulating traffic offenders should reign in on every reckless driver so that we don't lose young promising citizens like my Junior."
Muhwezi's body was laid to rest at his ancestral home in  Bugamba Rwampara, Mbarara District.
Eulogies from friends
Otaremwa Cephas Turihaihi; The world was not worthy of this general; a brother, a friend and a seat-mate for 3 years in High School. Gratitude to God for his life. Condolences to the family, friends and relatives of Bergen Muhwezi TUK. May his soul rest in peace. IT IS WELL.
Sharon Atusasiire: Gone too soon! At just 19. Rest in perfect peace dear nephew BergenMuhwezi Tuk. What a life to take! What crushed dreams! What a pain to bear!
God's case, no appeal.
 Allan Kaboyo: I'd like to wake up to your text tomorrow saying this is all hoax, I don't want to believe that you are gone, not you man atleast not u…just yesterday you were here and now u seem so far away, I don't want to believe that your gone 😔 Tuk wherever you are no matter how far, the memories you lay in my head will always keep u alive..I'm gonna miss u brother😖 RIP Muhwezi Bergen
Kato Mpanga Christopher: "Tribute to Muhwezi Bergen!"
I met Muhwezi at King's College, Budo in 2011 and I happened to be his House Prefect in 2012/13.
In my close interactions with Muhwezi, I got to know him as an intelligent young man with a calm, simple and humble demeanour.
I think it was this kind of intelligence that took him to King's College, Budo and later, to St Mary's College, Kisubi where he finished his high school.
Bergen was a committed member of the Budo Chapel Choir during his Budo days. He loved his faith and served it well. It is this kind of noble character that will be missed by all those who knew him.
The question to the rest of us is; how much time have we got left and how are we using our lives to serve others? Muhwezi lived an exemplary life and served his society with utmost commitment even by the time of his demise.
Therefore, I would like to extend my heartfelt condolences to the family and friends of Muhwezi Bergen. His contribution to our generation will be dearly missed!
Rest In Peace my brother and friend!
John 11:25 "Jesus said to her, "I am the resurrection and the life. The one who believes in me will live, even though they die….."
Karuhanga Byaruhanga: Say not in grief that he is no more
but say in thankfulness that he was.
A death is not the extinguishing of a light,
but the putting out of the lamp.
You were a friend, a competitor, an Old Boy, a world mover to be. I have honestly run out of words Muhwezi Bergen the world ha lost out a lot and you will surely be missed.