When SafeBoda launched a new passenger app last month (June) that was built from the ground by their software engineers, they promised to take on the cashless revolution in Uganda by its horns.
The new app which is built to enviable international standards and carries the company's vision to provide safe mobility and unmatched FinTech solutions to users across Africa's urban cities through technology has now added an instant airtime buying option among its amazing features.
"Buying airtime does not have to be time consuming. The current experience requires one to have Mobile Money or to be within walking distance of an agent. We know that SafeBoda's cashless customers buy airtime daily, so to make the cashless experience even more convenient for all users, we have not just added an airtime feature into the app, but we have reinvented the entire experience to make it 3 times faster than buying from anywhere else", says Nicholas – the FinTech Lead at SafeBoda.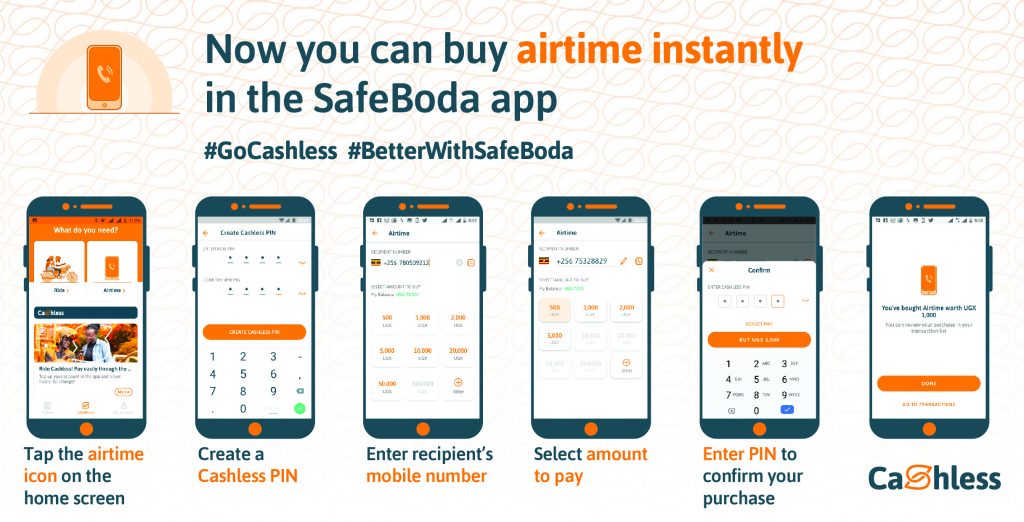 "In the coming months our customers should expect improvements on how they can carry out additional tasks in the app, and we are confident that cashless airtime purchase will give them a glimpse into the level of improvements that are coming to the SafeBoda cashless wallet", he adds.
Besides being able to top up your cashless account using a SafeBoda and buying airtime, there are new and exciting features to look out for like sending for courier services and sharing of Cashless. SafeBoda promises that both will be coming to the SafeBoda app in the months ahead. Update your SafeBoda app today and #GoCashless!