Kabale University has sacked a senior lecturer identified as Dr. Lukman Nafiu Abiodum over sexual harassment.
According to the information from the University Secretary Mr Baryantuma Johnson Munono, the lecturer was found guilty and therefore disqualified.
"I regret to inform you that Appointments Board Kabale University under Min.598/60/AB/2022 found you guilty of sexual harassment, failure to follow examination regulations and professional negligence," the information reads.

Following this decision, the Board further added that his contract should not be renewed.
"The Board further revealed not to renew your contract as Senior Lecturer Statistics when it expires on November 11, 2022."
The reprimanded lecturer was thus asked to return everything that belongs to the University; "You are therefore asked to hand over all University property in your possession to the Dean Faculty of Economics and Management Science in the presence of the Internal Auditor."
Reports indicate that the lecturer would demand for sex from female students in exchange for marks and those that refused got retakes.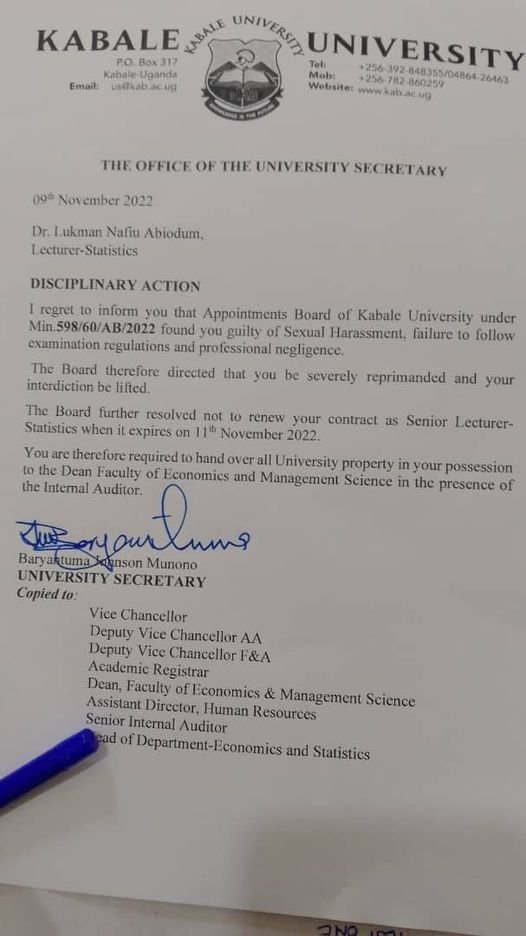 Sexual harassment is an unwanted behaviour relating to any sexual nature. And to be sexual harassment, the unwanted behaviour must have violated someone's dignity, whether intended or not, create an intimidating, hostile, degrading, humiliating or offensive environment for them, whether it was intended or not.
The behaviour is highly prohibited at higher institutions of learning.
At Makerere University, in 2016, following a case in which a member of staff allegedly raped a student, the School of Women and Gender Studies in Collaboration with the Women's movemnt embarked on a campaign to stop sexual harassment.
Comments