Social media infuencer and Socialite, Sheila Gashumba has for the past couple of days been demanding for justice for the "continued" media bullying that she has been going through all attributed to The Kampala Sun Newspaper and Urban TV's Scoop on Scoop programme, hosted by Christine Karungi alias Tina Fierce.
The very latest development from the whole matter is that the youthful socialite has opted for Court to settle the feud between her and the Urban TV presenter.
In a letter dated 24th June, Sheila and his boyfriend, God's Plan have organized with their lawyers from Balondemu and Company Advocates to address a sue notice to Tina under the care of Vision Group noting that she has on numerous occasions attacked them through her television programme dubbed Scoop on Scoop which airs on Urban Television.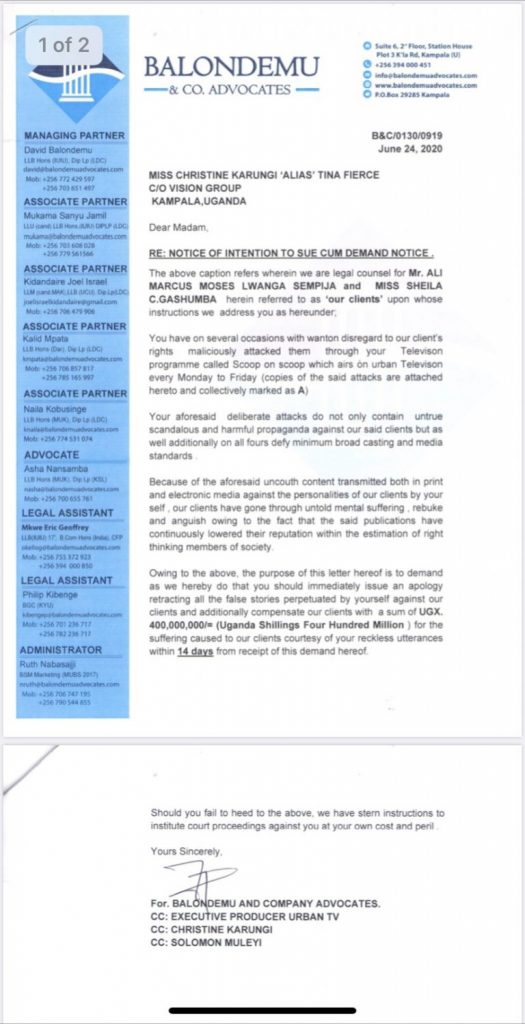 They allege that Tina pushes false stories about them which has sent them to mental suffering and depression which on top of it all, is a form of media bullying which has negatively impacted their societal reputation.
The couple demands that Tina compensates them a sum of Shs 400,000,000 for the damages and suffering they have suffered and additionally apologise. Tina was given an ultimatum of 14 days to take action.
We'll keep you posted on all this drama, for it is only heating up.
Comments