Students were left tear-jerking and many in shock as Ms. Zoleka Mandela opened up about her heart breaking life experiences during a key note address that she presented at the Nelson Mandela Commemorative lecture at Makerere University on August 21st 2017.
Nelson Mandela's granddaughter's life story is one of the few motivational stories about people who have learnt to transform difficulties and challenges and turned them around through motivation and perseverance to a successful breakthrough.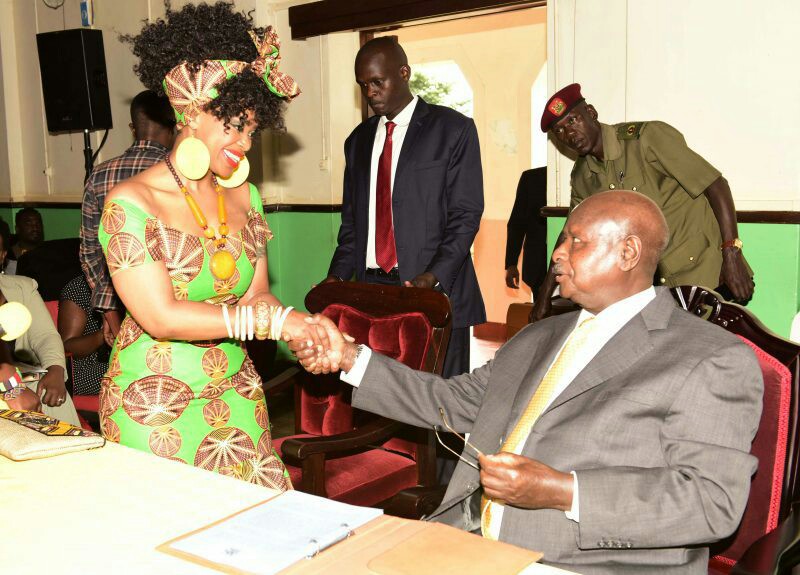 Repercussions of growing up in an unconventional and un stable environment during a terrifying period in South Africa caused Ms. Zoleka to go through a nasty past ordeal where she had her first drink of alcohol at the age of nine, got involved in drug abuse which escalated to a 17 year long addiction of alcohol and suicidal behavior, underwent multiple encounters of sexual abuse and had a teenage pregnancy at a tender age of 17.
Ms. Zoleka Mandela while speaking to the youths under the theme; Nelson Mandela, the legend: Lessons for the youth, revealed she was ashamed of her past but yet felt the constant urge to lead the youths into a better direction through telling her bitter past truths. The invited guests and the students at large were moved and amazed by what she had to say. Professor Mahmood Mamdani, the head of Makerere University Institute for Social Research lauded her for being honest and speaking out from the heart as it takes a lot of courage for one to speak out and change lives basing on their past mistakes.
While her grandfather was empowering youths through education, Ms. Zoleka dropped out of college due to drug addiction and a teenage pregnancy she got. She regrettably remembered and narrated with teary eyes how she wasted all the money her parents had invested in her education.
"My grandfather always thought of education as a formidable approach to change the world," she said.
In 2010, she went through a tragic and painful experience of losing a daughter to a drunk driving car crash after her 13th birthday and the following year lost a son from a complication at birth. In 2012 at the age of 32, Nelson Mandela's granddaughter was diagnosed with breast cancer where she managed to seek treatment whose fight was successful.
Tasked to present what advice Nelson Mandela would give to the youths if he were still alive, she stated among other things, "Youths and members of the community, they too matter! People feel unloved and left out but they are reminded that they are seeds of greatness, seeds that will blossom whatever way the wind of life will blow them."
Currently, Ms. Zoleka Mandela is an icon, writer, wife, a mother of two and an activist who uses her life experiences to create awareness, restore hope and to educate the youths through the Zoleka Mandela foundation that she founded in 2012. The foundation restores hope to victims of sexual and drug abuse, suicide, alcohol, menopause and infertility victims, child death, teenage pregnancy, diseases like cancer victims, among others.
She has moved from a journey of struggle to hope and determination, She is the author of the book, When hope Whispers, hosted 'UN My World' Awards, has been the ambassador of the United Nations Global Safety Week and among the BBC's top 100 women in 2016.
A whisperer of hope, Indeed!