Renown events MC and TV presenter MC Kats was recently invited to deliver his HIV testimony to Uganda Christian University (UCU) students in an event aimed at combating STDS once and for all.
While speaking to UCU students, Kats urged them to avoid contracting HIV at all costs before reminding them to take care of their lives.
"Take care of your lives, don't contract HIV," Kats said while concluding his speech to UCU campusers.
MC Kats was later joined by his "best friend" Caroline Marcah who also reminded the Mukono campusers to take care of their lives in a bid to have an HIV free community in the future.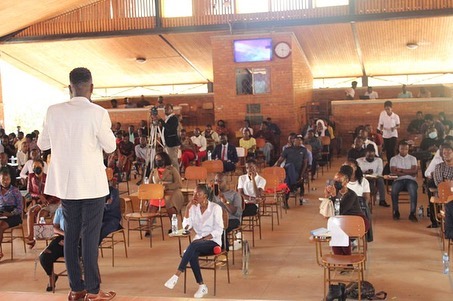 Under the theme "Combating STDS once and for all, an AIDS and STDS free Uganda", the event was organized by the Brendan-UDPC Initiative, fronted by Brendan Katushabe, a third-year law student at the university's Kampala Campus and Deputy Minister of Information.
The event was also graced by other celebrities including; Douglas Lwanga, Levixone, and veteran musician Joanitah Kawalya who was the chief guest. Manwhile, Barbie Itungo Kyagulanyi, a wife to NUP Principle, Bobi Wine was bounced from the event.
Drama unfolded after Kyagulanyi was blocked from entering the university premises despite being invited by the organizers. It remains unclear why she was not allowed to enter but some rumours suggest that it was as a result of "order from above".
Comments