Just five days after capping her Software Engineering degree at Ndejje University, Christine Nampeera has received a job offer from a random internet well-wisher and guess what!? It is clear to see that no interviews have been conducted in that regard.
In a tweet recently, a one Adam Kungu (Kungu Al-mahadi Adam on twitter) wrote to the fresh graduate Nampeera expressing pleasure in offering her an opportunity to work for Radio4.
The tweet served as a gesture of congratulating Nampeera upon qualifying as a Software Engineer.
"Dear @nampeera_ , congratulations upon reaching this great milestone. I am happy you are now a qualified software engineer. Uganda's leading radio station, @Radio4UG, is pleased to offer you the opportunity to work with us. Will be great hearing from you. Cheers." Kungu wrote.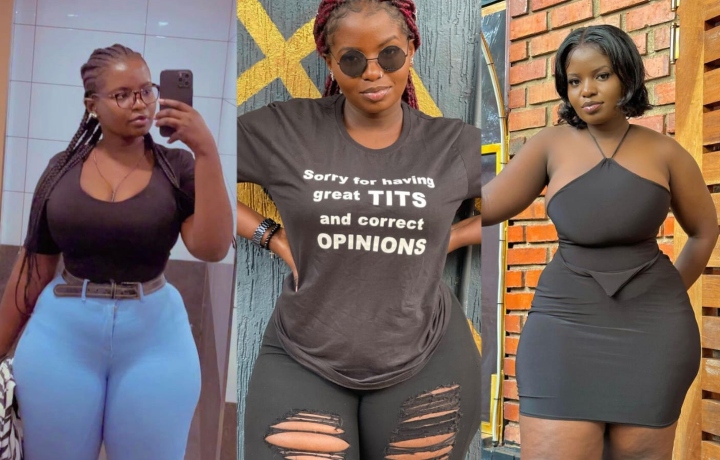 In response, Nampeera has expressed her interest in the job opportunity and assured to reach back to the well-wisher.
"As a software engineer, i hope 😊 Thank you so much @adam_kungu for the opportunity. I will definitely reach out." She wrote.
Concerned citizens have been left wondering what criterion was followed to deem Nampeera fit for the job. A section of the comments seen by this website assert that her well-built body served as a curriculum vitae (CV) for her consideration for the opportunity.
Boy oh boy, Hold tight because the buzz is not about to stop.
It is not every day that such opportunities immediately present themselves before fresh graduates in a country like our dear Uganda, and this just turns out to be a blessing for Nampeera.
Previously known for steering the nightlife and hosting events at Kampala's top bars, Nampeera has vowed to ditch that life as she moves to push her life to more sustainable sources of income. She hinted about her next intentions.
Kungu is a Ugandan Journalist, a station manager at Radio 4 and a talk show host on Baba Tv
The Reactions
Comments