Afrobeat queen Tiwa Savage is expected to make a mega return to Uganda next week ahead of her July 29th concert.
Uganda female entertainers can't keep their eyes off the calendar as the D-Day draws close.
The Afro-beat queen will be entertaining Ugandan revelers with company of Uganda's finest female artists, who will bring their A+ game to the very first female- only line up concert. Below are some of the top names:
Read: Nigerian Songstress Tiwa Savage to Return to Uganda in Mega Concert
Cindy
The Renown King of the dancehall joins the Queen of Afro-beats to quench the thirst of revelers who last experienced her major concert performance during her own 'Boom Party" concert.
The talented Mother of two left her fans satisfied after a thrilling act which according to her, is still the biggest Ugandan concert in history. If there's anything her fans can be sure of, Cindy will bring the best vocal codes and exhilarating dance moves come 29th July.
Winnie Nwagi
Uganda's fire baby, the real savage and unapologetic Winnie's vocal prowess is one to reckon with while her steamy dance moves can't leave anyone the same. With a long line of hit songs , Winnie's fans have been begging for a concert performance and looks like the best place to start with is alongside Tiwa Savage, this 29th July.
Vinka
"Now DJ play the song we thank God" for the very first female-only international concert Uganda has ever had! Queen Vinka is a stage allegator, that leaves funs yearning for more whenever she steps on stage. This 29th July will surely be no exception as the hit maker who's mastered the art of releasing chart toppers promises her fans the very best of her.
Karole Kasita
If you haven't watched Karole perform, you don't know what you're missing! The real savage twerk queen will leave you ecstatically screaming once she hits the stage with her popular hits like Balance, Yaka, Binyuma, Mwoto… to mention but a few. One thing for sure, revelers gotta brace themselves for a jampacked concert!
Lamu
The beautiful melodious Afro-pop queen who was discovered by Mr.Eazi is a perfect blend of soothing jams and dancehall vibes and she's not bringing anything less than that. Queens are known to be graceful but also funky and cool and that's exactly what Lamu stands for.
Sandra Nansambu
Imagine your high school peers seeing you sharing a stage with an international icon. POAStar season 1 winner Sandra Nansambu's story has been told and she's here to stay and be remembered in the books of history. She brings inspirational vibes but also a thrilling performance that will surely get fans off their seats with her hits like Kitandiika Nawe.
DJ Zato
Ugandan women fell in love with Zahara Toto, the savage gossip queen who later gave another bit of her to the world, DJ ZATO. The queen of the decks is more than just a disk jockey but a performing DJ that will get the crowd throwing their arms in the air as she dances, hypes and djs at the same time. Words can't express her performance on these sites, just buy your ticket and be at the Lugogo Cricket Oval on the 29th of July.
DJ Alisha
The beautiful Ugandan Rwandan is a 360-stage performer with reliable Disk Jockey and Dancing skills that will leave no revelers seated. She's steadily taken over the Ugandan nightlife by storm and is currently one of the most booked DJs in Kampala, with international events to her name.
The queen energy will overflow and it wouldn't be nice for you to miss out on it as Tiwa makes her grand return to Uganda at the Lugogo Cricket Oval on the 29th of July 2022.
Buy your tickets on: www.quicket.co.ug
Tickets are also available at The TalentAfricaGroup App will the price tag below;
• General Early bird tickets (between July 5th – July 27th) at 50,000/=
• General Tickets at the Gate at 70,000/=
• VIP Early bird (between July 5th and 27th) at 100,000/=
• VIP at the Gate – 120,000/=
• VVIP Tables – UGX 3,000,000 (limited quantity available)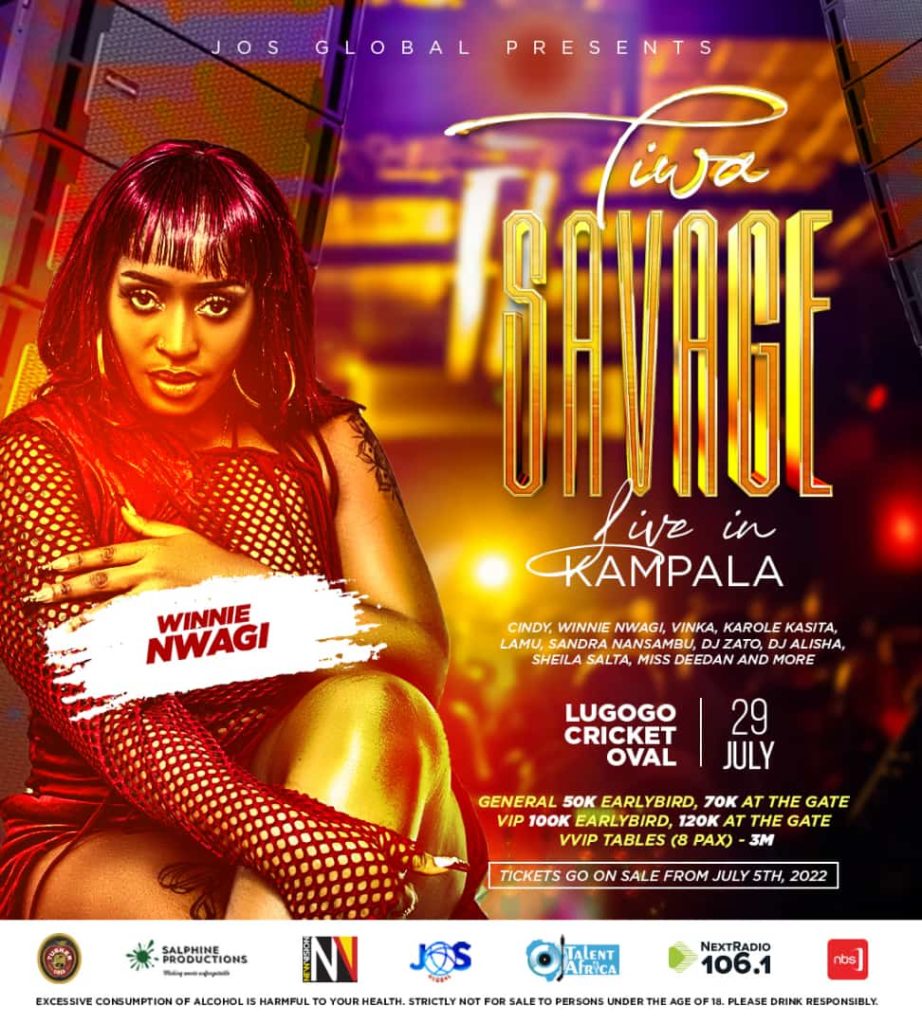 TIWA SAVAGE LIVE IN UGANDA is powered by JOS Global, Talent Africa Group, Salphine Productions, Next Radio, NBS Television, New Vision, Mighty Rides, Sheraton Hotel, Pepsi Max, Hedge Marketing, and Tusker Cider.
Comments