The 25th Guild cabinet of Uganda Christian University (UCU), together with the Office of the Vice Chancellor, has organized a 'tuition run' aimed at raising funds to support financially challenged students.
Captained by the Guild President Timothy Ddumba, the student leaders have spearheaded a noble gesture to reach out to fellows who deserve the support.
The run is slated for 21st October, 2023 with merchandise already on sale as a fundraising initiative.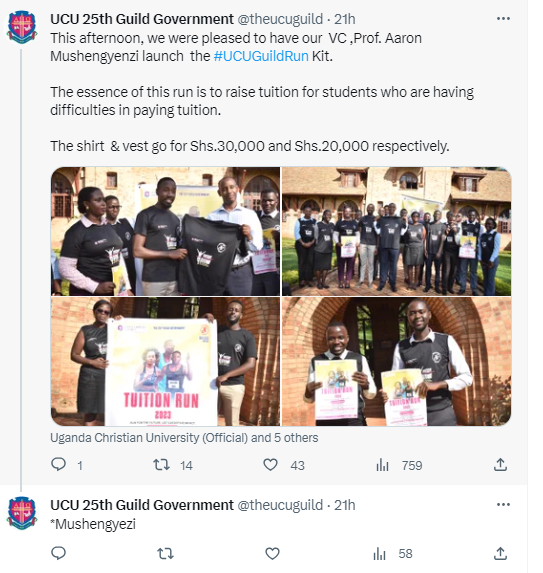 On September 25, UCU Vice Chancellor Prof. Aaron Mushengyezi, alongside the 25th guild government officially launched the "Tuition Run".
"This amazing event will happen on October 21, 2023. Get yourself a super cool UCU bib for just UGX 20,000 and stylish T-shirts for only UGX 30,000. By joining the Tuition Run, you're not just having fun – you're also lending a helping hand to students facing tuition challenges," UCU announced.
"Let's come together as a community and show our support for our brothers & sisters," the university added.
Comments