In a Memo issued on the 5th of January 2020 by the Dean of the Faculty of Law (LLB), Uganda Christian University (UCU) – the mastermind of the take home exams has yet again announced it's now cliche scientific mode of semester assessment.
The "take home examinations" are scheduled for all continuing students pursing a Bachelor's degree in Law (LL.B) or as many would term it, "Legum Baccalaureus"
This decision came in light of the lurking pandemic that is now more than ever annihilating a vast majority of the Ugandan population and is intended to keep students safe all while allowing them to finally finalize the semester.
Our reporter while flicking through the memo learnt that the fore mentioned examinations will commence on the 18th of January 2020 and run for an estimated period of 2 weeks.
The University will take on the mandate to upload the examination papers every Monday and students will be required to hand-in said papers on that week's Saturday preferably before the next examination upload.
The papers will be uploaded randomly and therefore no timetable should be expected since take-home examinations are open book by virtue.
With this, the administration urges all students to sort all pre-examination modalities like tuition balance, registration and clearance to avoid any distress or agitation.
Attached below for clarity and credibility is the Memo stamped and signed from the Dean of Law's office UCU.
Don't be left out – stay informed and updated with Campus Bee about any new and abrupt changes at your University.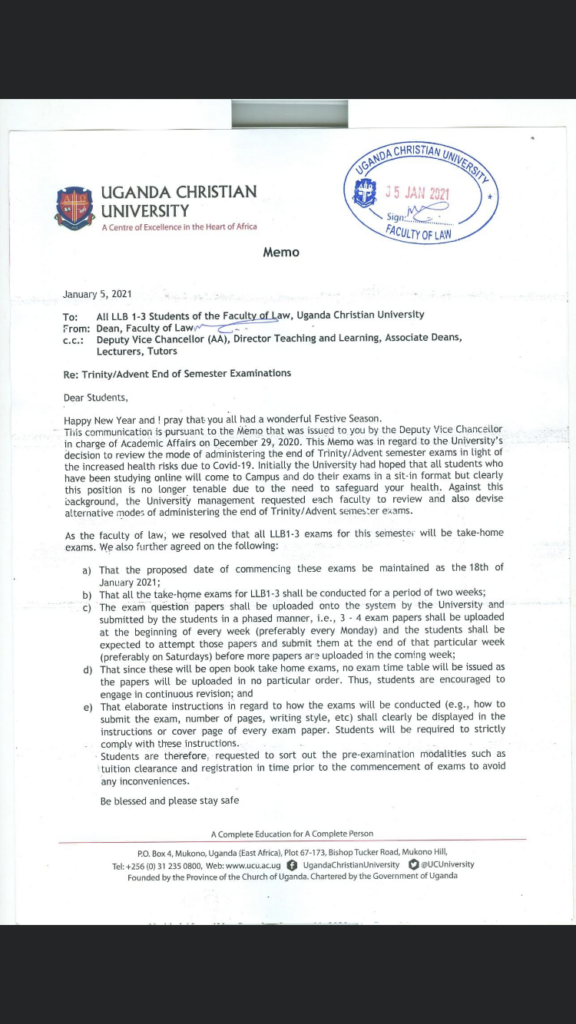 Comments