According to the latest rankings unveiled as per July 2020 by Webometrics (Ranking Web of Universities), Makerere University has maintained its 12th position amongst the top Universities in Africa, in comparison to the previous rankings which were made in January this year.
In the same rankings, Mbarara University of Science and Technology (MUST) unfortunately declined to 76th position from 60th where it was settling in the previous rankings. The case is not any different from the renowned Uganda Christian University (UCU) which as well declined to 265th position.
Kampala International University (KIU) made a very huge improvement as it came in 109th spot, above Kyambogo University and UCU. Kyambogo University emerged 152nd among the top universities in Africa.
As it has always been, the Republic of South Africa tops the African rankings with five consecutive universities some of which; University of Capetown, University of the Witwatersrand, Stellenbosch University.
Kenya's University of Nairobi (UoN) locked on the 10th position, becoming the only East African University that made it to the top ten Universities in Africa according to the Webometrics rankings.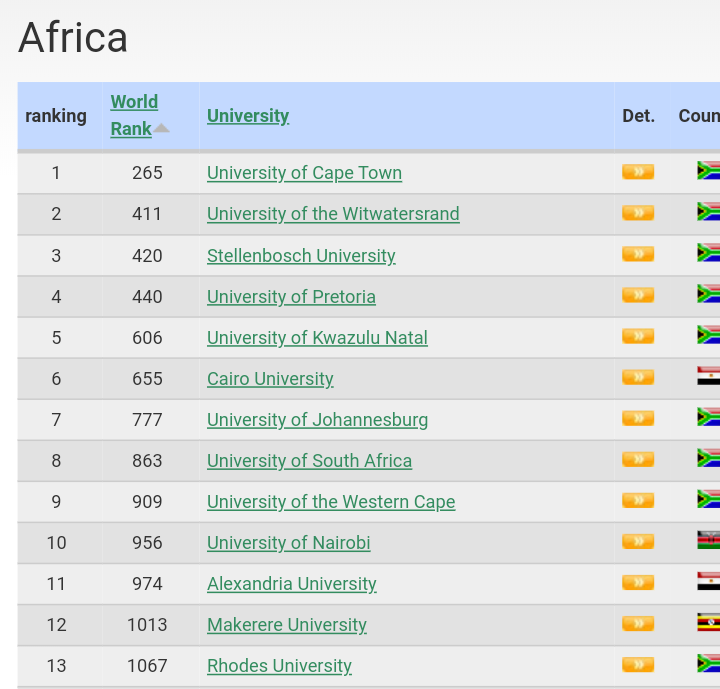 The Ranking Web also known as Webometrics is the largest academic ranking of Higher Education Institutions offering every six months an independent, objective, free, open scientific exercise for providing reliable, multidimensional, updated and useful information about the performance of universities from all over the world.