A week ago, Nkumba University held its 25th graduation ceremony in which over 1000 students were conferred with different awards and since then, the institution has faced criticism after it was discovered that they had carelessly issued certificates to the recent graduates containing a critical misspelling intended to mean "senate", putting graduates employment prospects in jeopardy.
According to a certificate for a honorary degree that was conferred to a top Government official, the misspelling is clear to the eye.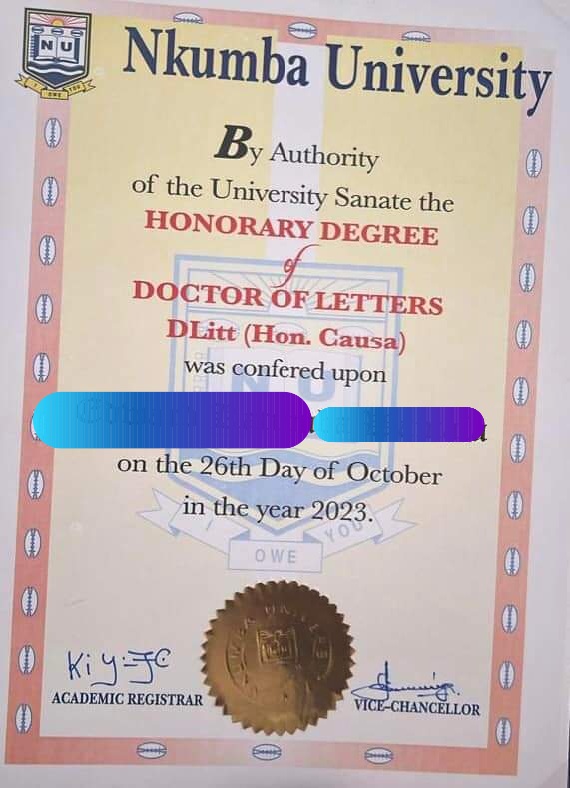 Such an error could cause a negative impression to prospective employers who don't bend low for any explanations. A section of the affected students are worried that they could be portrayed to hold fake documents in an already competitive job market.
One of the affected graduates who preferred not to be named said: "I had worked so hard to earn my degree, and now I'm worried that potential employers might think I faked it because of the typos on my certificate. It's embarrassing and demoralizing."
It is public knowledge that for a transcript to be deemed legitimate, the supporting certificate is always cross-examined.
The university is yet to publicly pronounce its position on the matter as graduates await a way forward.
Local employment experts have weighed in on the situation wondering how university officials could sign off on documents with such a mistake, given the approval processes involved.
"How could a university anywhere in the world possibly print, sign off and hand out a certificate in a solemn academic ceremony but a certificate with such an embarrassing typo without catching the error!!" a one Vincent Mugisha wrote.
As uncertainty hovers over the affected graduates, there is eager anticipation of the corrected transcripts that will allow them to showcase their hard-earned degrees without the specter of the misspelling looming over their job applications.
Comments