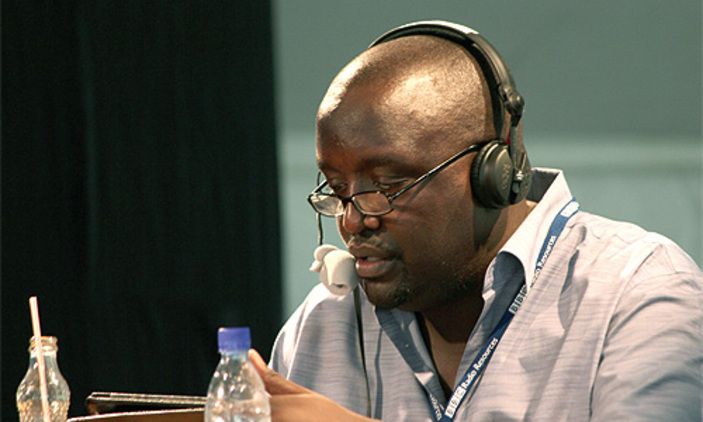 St Mary's SS Kitende has emerged best performing school in the Uganda Certificate Examinations [UCE].
The Entebbe road based high school had 430 students in division one and two in division two.
These results have made BBC's Allan Kasujja raise his eyebrows wondering if UNEB examinations are set in Kitende.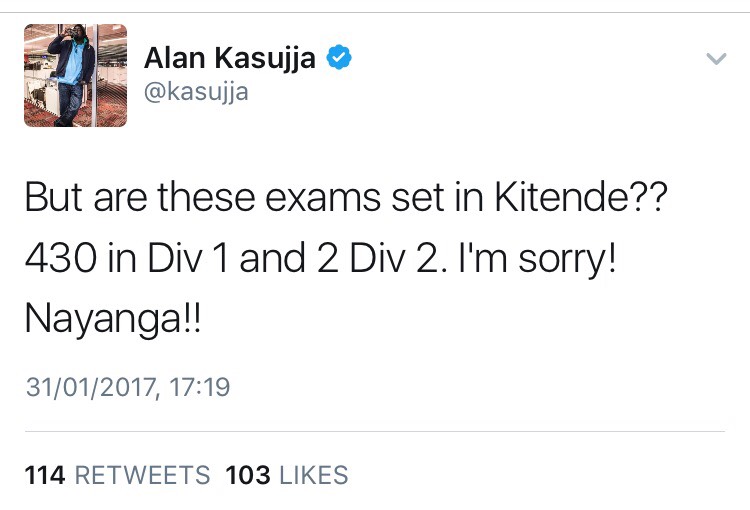 "But are these exams set in Kitende??? 430 in Div 1 and 2 Div 2. I'm sorry! Nanyanga!" Allan Kasujja tweeted.
@kasujja Been a top school for 115 years, and still pioneering education. A great performance from the Alma Mater!#UCE2016.

— Ambassador of Chill (@mr_nnyombi) January 31, 2017
Wama parents, please take your children to Kitende. They will pass exceedingly and abundantly, more than you could ever ask or imagine ? https://t.co/2M0gDSQIVD

— Bren-Duh©™ (@mac2tweety) February 1, 2017
A video surfaced on social media allegedly showing students of St Mary's SS Kitende copying as they prepared for a UNEB examination last year. The video that appears to be recorded by a student made rounds in Whatsapp groups and other social media platforms.
List of TOP perfroming UCE schools.
1. St Mary's SS Kitende
2. Uganda Matyrs Namugongo
3. Ntare School
4. Kings College Buddo
5. Mt St Mary's Namagunga
6. Seeta High School, Mukono
7. Mbarara High School
8. Immaculate Heart Girls School
9. Kisubi Seminary
10. Buddo SS
11. St Mary's College Kisubi
12. Naalya SS
13. Naalya SS Bweyogerere
14. St Mark's College
15. Namilyango College
16. Namirembe Hillside HS
17. Seeta High School
18. Our Lady of Africa SS
19. St Peters SS Nsambya
20. Kawempe Muslim School
21. Makerere College School
22. St Henry's College Kitovu
23. Bweranyangi Girls SS
24. Gombe SS
25. St Mary's Voc. Kyamuhunga
26. Maryhill High School
27. St Andrea Kahwa's College, Hoima
28. Citizens SS, Ibanda
29. Iganga SS
30. Kiira College Butiki 31. St Mary's College, Rushoroza
32. St Thereza's Girls' SS Bwanda
33. Kanjuki SS
34. Kitgum Matidi Seed School
35. Ndejje SS
36. Gayaza High School
37. St Kizito Katikamu Kisule SS
38. Standard College Ntungamo
39. Christ the King SS Kalisizo
40. Tororo Girls School
41. Namiryango SS
42. Kibuli SS
43. Bishop Cyprian Kihangire SS
44. St Catherine Bujuuko
45. St Joseph's Voc. School Mbarara
46. Luweero SS
47. St Joseph's Girls Nsambya
48. Seeta HSl Green Campus, Mukono
49. Kitabi Seminary Bushenyi
50. Masaja SS
51. Sacred Heart SS Mushanga
52. St Jude's SS Katende
53. London College of St Lawrence
54. Rubaga Girls
55. Turkish Light Academy
56. Kisozi H/S
57. Trinity College Nabbingo
58. Kajjansi Progressive SS
59. Cornerstone Leadership Academy
60. Nsambya Hillside H/S
61. Mita College, Kawempe
62. Kyambogo College School
63. St Peter's Naalya
64. Mbogo Mixed SS
65. Teso College
66. Busoga College Mwiri
67. Aga Khan High school
68. Makerere High School, Migadde
69. Hilton H/S Mukono
70. Nganwa High School
71. Nsambya SS
72. Luzira SS
73. Kyadondo SS
74. Kitante Hill SS
75. St Leo's College Kyegobe
76. Old Kampala SS
77. Kigezi High School
78. Lubiri SS
79. Mityana SS
80. St Jude's SS, Katende
81. Crested SS
82. Kabowa HS
83. Bukala Minor Seminary
84. Our Lady of Good Counsel
85. Katikamu SS
86. Masaka SS
87. Mandela SS, Hoima
88. Kakungulu Mem. School
89. Mvara SS
90. Namagabi SS
91. Central College, Mityana
92. Citizens SS Ibanda
93. Wagwa High School
94. St Joseph's SS, Nagalama
95. St Bernard's S, Mannya
96. Bukandula SS
97. Mbuya College School
98. Faiha High School, Kawempe
99. Kawaala College School
100. Mackay Memorial