Warning: Article contains images some viewers may find disturbing
War erupted at a Ugandan university (reports say it is Makerere) after a female student learnt that one of her coursemates was sleeping with her boyfriend. While the names of both scholars remain unknown, Campus Bee has established that one of the girls lost her ear during this fight.
It is said that the jealous babe, who couldn't let her colleague snatch her man took matters in her own hands and bit off her coursemate's ear.
The fight, which kicked off in a lecture room ended in tears with one of the girls losing her ear.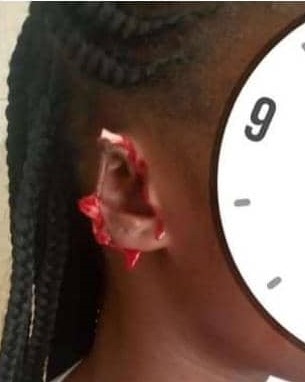 According to eyewitnesses, one of the babes was heard shouting "Ndugyira ahamushaija", a Runyankore word meaning 'leave my man'.
Information regarding the whereabouts of the two babes and the gentleman remains scanty, but we will surely update you once more juice comes in.
Watch the fight below;
Comments