This Easter relax, save time and get all you need online
The Easter period is a good opportunity to finally spend time with your family and friends as well as to relax. That's why you shouldn't waste your time with running around the city and looking for gifts. Online Shopping gives you the great convenience to avoid going through crazy traffic jam and crowded shopping malls. Kaymu gives you some shopping ideas for this year's feast. Let's use this online platform and fully enjoy our Easter Holiday.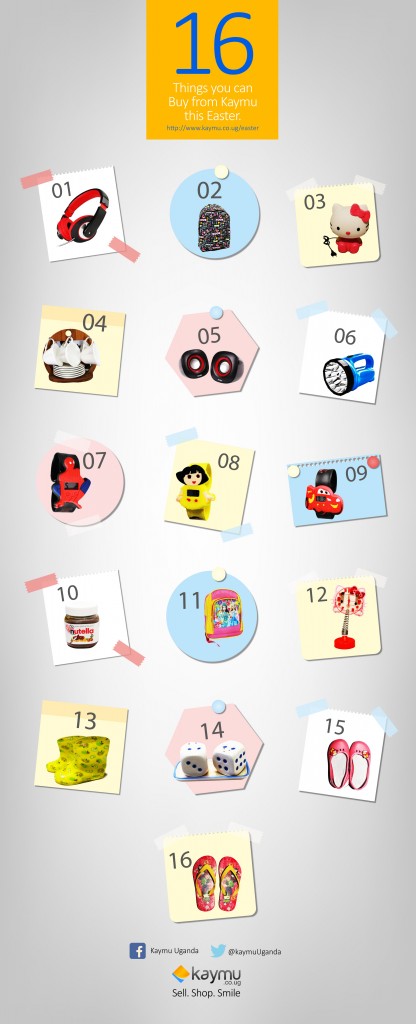 Home Appliances and Decoration
Do you need a new set of glasses or a set of ceramic cups? Or maybe you want to give a trendy touch to your kitchen with fun Salt Shakers in form of dices. Whether you want to impress your guests with new gadgets or you just want to give your home a little makeover, the sellers on Kaymu offer you a variety of products like Saachi Blenders, drink mixers, fruit vases, salad bowls and many more.
Food & Beverages
Planning to have a little party for Easter? You still need some Red Bull, Chilli Sauce, Johnny Walker or Waragi? No worries, you can relax and order these things online and wait for them to be delivered at your place. You can also sweeten up your Easter with cookies, marmalade, chocolate or Nutella (yes, you can even get that on Kaymu).
Kids
Make your little ones happy with small toys like animated watches, clocks and table lamps in form of Spiderman, Dora the explorer or Hello Kitty. Find different items from baby rubber boots, slippers and crocs, to schoolbags, bracelets and computer games.
Discover 16 things (and more) you can get this Easter on www.kaymu.co.ug