Makerere University Business School (MUBS) Principal Prof. Wasswa Balunywa has given assurance to his students that exams will not be done until the pending issues are resolved.
The Principal reaffirmed his promise in a letter to the students community after calming down the dissatisfied students that had opted for other means.
"I am re-affirming my statement that exams will not be held until when your leaders confirm to me that there is satisfactory response to all genuine cases of missing results and other issues as were raised by the GRC this morning," Prof Balunywa insisted.
The Monday morning of 24th January witnessed dejected groups of students warming up for a protest seeking the attention of MUBS administration regarding burning issues like missing marks, online teaching inefficiency and high tuition fees. The rarity in behavior was a surprise to many since MUBS students seldom employ industrial action, unlike their fellows at the parent institution, Makerere University.
Prof Balunywa further pledged to the students a quick response and pleaded for more time to restore normalcy.
"I appeal to you to give us time to address these issues. We are now tackling 3rd year students' issues and we hope that they should be resolved in the next two (2) days," he added.
Below is the full letter;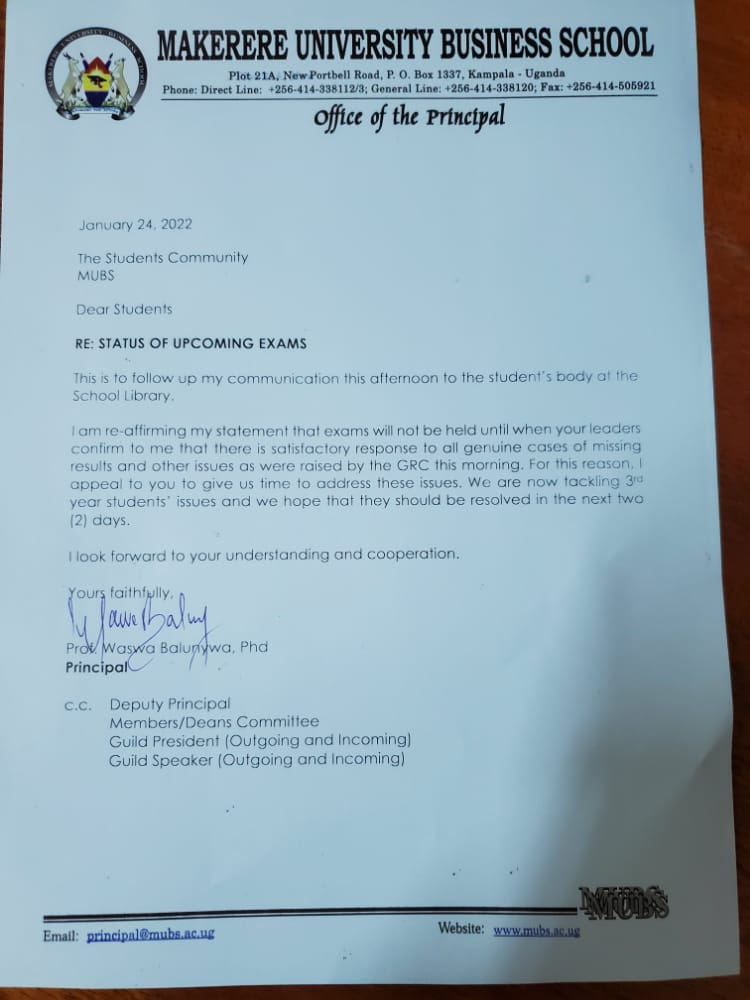 Comments