Mujuni Qatahar Raymond
It was a little over 10 am in the Morning of Tuesday when I got to the crime scene. Pellets of rain poured down into an isolated Ford double-cabin pickup  whose environs had by now sealed been off with yellow police tape.
Detectives, both in uniform and plain cloth walked from the car into the police crime scene van with samples and routinely repeated the procedure over the hours. I flashed my media identification at an officer manning the scene and he walked me to where the other journalists had taken refuge from the rain.
The car was still intact save for glass particles that littered the ground on the driver's seat and dropped onto the bonnet. Fruits, previously bought by Joan Kagezi, the murdered state prosecutor were splashed onto the ground below the car, a mixture of mangoes and passion fruits.
"They shot her before she had finished her order" the fruit vendor, now an eye-witness to the murder narrates to me. "She was my regular customer and had always stopped here to buy from me fruits daily" he continues. "However yesterday when she stopped over, I had just started packing fruits when I heard three loud bangs" he narrates as his voice grows faint. "At first I thought it was a car tyre but then I heard the children screaming mummy has been killed and that's when I looked up and saw men speeding off on a motorcycle".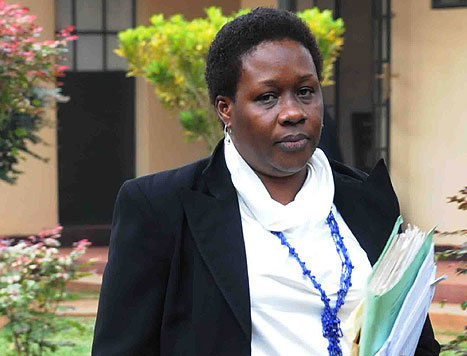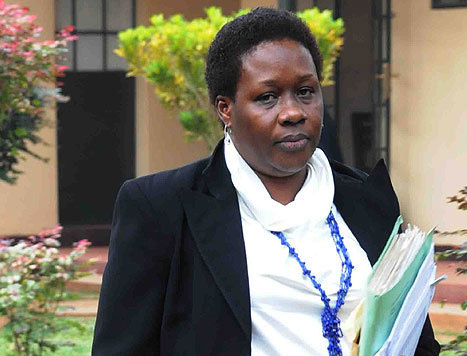 Kagezi would never have guessed that her car was being tailed. She had diligently executed her work tasks and was getting ready for a major court appearance the following day. Part of her diary the following morning was to take a key state witness through the testimony on how the bombs that hit Uganda on 7/11 had been assembled. The witness, crucial to the case, had been a former al-shabab agent who had struck a deal with the state to confess and get the prosecution, to which Kagezi belonged, a strong case.
"It is unfortunate that judicial officers are now under threat but we shall not be cowed in the prosecution of terrorism" The DPP Chibita had told journalists earlier in the morning when he visited the scene.
But beyond the prosecution of the 7/11 terror suspects, Joan had taken on more cases that would have made her a subject of great interest for her killers. Days before her murder, Kagezi had driven to Jinja to advise the Inspector General of Police. Kagezi, in a grey suit walked into the room with her usual confidence. She had worked with the IGP Kale Kayihura for about four years now and had become his trusted ally in the fight against terrorism.
Kayihura himself had a month prior to the meeting, camped in Bugiri to begin a sensitive investigation into the murder of two muslim clerics killed in 4 days in December.
Sheikh Abdu Kadir Muwaya, a revered figure in Bugiri had been shot twice in the chest at his home by gun-wielding men on a motorcycle. Four days on, in almost similar fashion, two men, still on a motor cycle had pulled up onto Sheikh Mustapha Bahiga in the busy Bwebajja town as he got out of his car and shot him  four times. He died on his way to hospital.
Kagezi had been handed three suspects who volunteered chilling confessions before her as she listened. One of them, obtained on transcript from a confidential source reads as follows
"I personally shot Muwaya as he got out of his mosque after prayers to enter his house. I did it as I had been instructed by Sheikh Jamir Mukulu, the leader of ADF. Jamil always told us that the Shia muslim sect was evil and we needed to wipe it out. We had guns and bullets buried at a school so we took on the task and eliminated their leader Sheikh Muwaya" reads the transcript.
When Kayihura agreed to an interview at the scene, the only question I had lined up was "Who are these people and what do we know about them?"
Held back, with one arm in his pocket and another wrapping around his dark khaki police uniform, he answered back pensively.
"It is organized crime Raymond" he said. "We have been following this organized crime all the way in Busoga and the manner of shooting is the same but I don't want to jump to conclusions" he added dismissively. "These guys are thugs, sometimes they are hired to kill and other times they are killing at their own volition" Kayihura says as he answers to why the killers target high-profile people.
It is however from the profile of one of the arrested suspects in Busoga that the network of 'organised crime' can be traced. Ali Kabambwe, a short dark-skinned man with trudges of wrinkles on his cheeks was a former rebel with the Allied Democratic Front. He rose through the ranks to become one of the highly trained rebels until 2007 when he surrendered to the army and sought for amnesty. Kabambwe was recently arrested over his involvement in the shooting of sheikhs. It was his testimony that led the police to uncover guns at an Islamic school which matched – as per the ballistics report – the bullets shot to kill Sheikh Mustapha Bahiga and Sheikh Abdu Kadir Muwaya.
But Kabambwe also warned the police that he was not alone and operated in a sophisticated network. It is this 'network' that has now become the subject of public fear.
Intelligence briefs that I have been allowed access to say the ADF has been trying to establish themselves as the regional terror outfit to get funding from the Al-shabab. Albeit not proven yet, the army has videos that show Jamil Mukulu addressing a gathering of his fighters and asking them to look up to 'The heroes of Somalia' that he says are establishing an Islamic government in the country.
Sources that I have interacted with in the army are still having 'trouble' in arresting an internationally wanted man – Jamil Mukulu but he regularly travels within and outside Uganda. He is said to spend a considerable amount of time in Eastern Uganda and at the borders.
But despite all this information, only the security agencies can answer;
Why did two men shoot a prosecutor in the broad day light at a busy place like Kiwatule?

Where did the men get the guns and ammunition to execute a bloody murder?

Why with all the intelligence and confessions available to the security services have they not arrested every member of this gang?

What is the shared relationship between the former ADF rebels and the Uganda Police that makes them immune and work with such impunity?
But as answers snail-speed themselves, a family of four children will never erase from their minds a scene so brutal and heart breaking. A man, tall, slender and brown-skinned pulling up right close to their mother and shooting her three times; twice in the neck and once in the limb before fleeing.
Could this have been prevented? Only the Uganda Police and sister security agencies have answers.
As the nation reels in both pain and fear over the death of Joan Kagezi, her killers continue to walk within the same spaces that security has leads on and possible information that could stop them.
Comments