Mbarara University of Science and Technology (MUST) Guild president Mugenyi Jastus has appealed to the senate to reconsider withdrawing retakes awarded to final year students.
The students' Guild office argues that awarding retakes to these students means missing out on graduation yet final year exams (both semesters) were done online in only two weeks, among other irregularities in the system.
"It has come to our notice that a high number of students were given retakes and others dead year due to failure of more than 15% of the courses offered in the academic year, this coupled with the delayed release of results for the two academic semesters of the 2020/2021 academic year that made the students to return to school without knowing their fate." Jastus noted.
With these queries, the student community raised complaint to the guild office, and realized that there were hardships faced by students during the first and second semester such as;
The inaccessibility of learning materials online
The lecturers' strike
Financial constraints that made students to report late to school and others missed first papers.
The abrupt examination program that was given to the students
Short academic semesters as compared to the previous four months
The Guild President, together with the student community therefore appealed to senate office to reconsider the following:
Offering the students who did not raise the pass marks a chance to prove their capability through having supplementary examinations.
Allowing those that shall have failed 15% to progress normally since these students were allowed into another academic year without knowing their fate. According to the examinations regulations (Amended 2016) 2.3.1 Certificate of due performance and class attendance.
Special consideration for 2020/21 academic year finalists who got retakes to be offered supplementary exams before the graduation list is out that's slated for May this year.
By the time of publication, MUST administration was yet to respond to the students' request. Belo is the full complaint letter;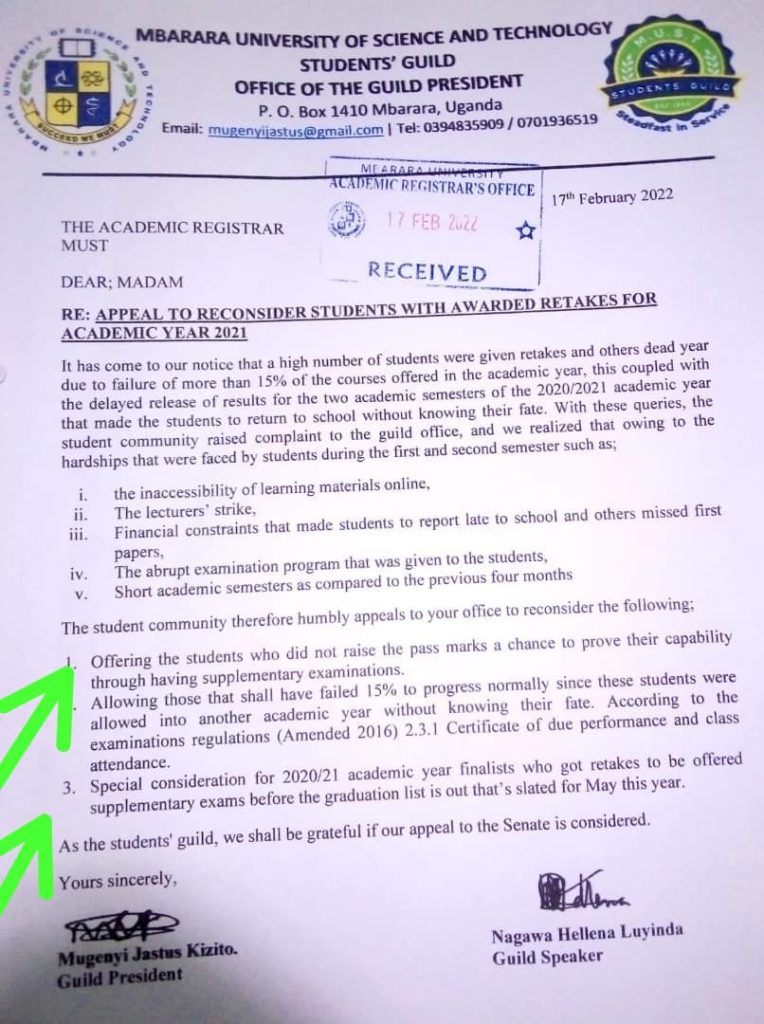 Comments