Pearl of Africa born female journalist, Nancy Kacungira has joined BBC. The down-to-earth Kacungira who mentored journalism students at Makerere University months ago will be hosting the popular BBC- Focus on Africa show that airs every Monday.
Nancy Kacungira previously worked as KTN Kenya news anchor at the Mombasa Road based Media House. She also previously worked at NTV Uganda and also worked as a radio presenter for a Christian station – Uganda's Power FM situated at Watoto downtown. Nancy rose to international media station after winning the first BBC World News Komla Dumor Award in 2015.
Who is Nancy Kacungira?
Kacungira is a Ugandan born of 1986 and raised in Tanzania with Ugandan parents.
In 2016, Kacungira co-moderated the Uganda presidential debate. Critics asked why a Ugandan based journalist could not be selected to moderate the debate but her intelligence, knowledge and experience could not be matched.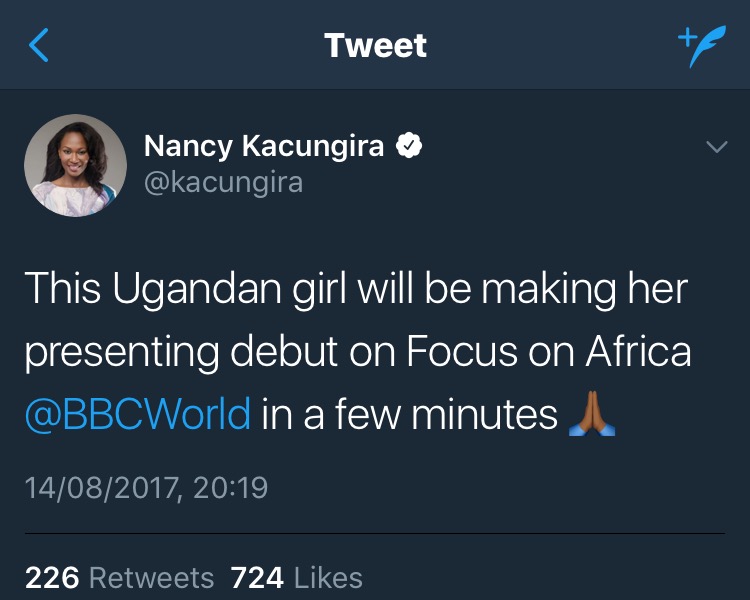 Education Background
Nancy Kacungira attended primary school at a small missionary school in Tanzania, learning in a class that had about 15 pupils. Afterwards, together with her sister, they moved to Uganda for their 'O' and 'A' levels.
In Uganda, she went to Namasagali College and Kibuli High School and thereafter joined Makerere University from 2003 – 2006 to pursue her degree in Bachelor of Arts (BA), Design and Visual Communications. She graduated with a First Class Honours.
From 2008 – 2010 she went to University of Leeds for her Master of Arts (M.A.), Communication and Media Studies and graduated with a distinction.
Job History
Nancy has bee a News Anchor and a Social Media Editor at KTN Kenya. She Joined KTN in Late 2013.
In 2010 Nancy co-founded Blu Flamingo; a digital media management company in Uganda that continues to grow online brand presence for several clients.
Nancy Kacungira Joins BBC
KTN's top news anchor Nancy Kacungira won the first BBC World News Komla Dumor Award in 2015. Having won the BBC Komla Dumor award, went to London, UK for three months to work with teams across BBC News.
In 2015 Nancy Kacungira said, "I felt supported as a journalist from the continent, to tell the story I wanted to tell in the way that I felt it should be told."
The award was established to honour Komla Dumor, a presenter for BBC World News, who died suddenly aged 41 in 2014. Ms Kacungira was selected from nearly 200 applicants.
One of the judges, BBC Africa's current affairs editor, Vera Kwakofi, credited Nancy's win to her experience and sharpness. She said: "Nancy is incredibly smart with a breadth and depth to her knowledge and experience that comes across instantly."
Nancy's Family
Nancy's only sister is called Seanice Kacungira. Her mum and dad separated when they were young. By then they lived in Dodoma, Tanzania, where her dad worked as a pilot with a charter airline.
Kudos and Congrats to Nancy Kacungira for raising the Ugandan Flag high.
Comments