With the now lucrative entertainment industry in Uganda, many campus students have seen it as a window of opportunity to make a living out of it.
As Campus Bee, we take pride in bringing you fresh talent you should look out for and in today's Campus Hustler is a one Kato JB Haundred from Kyambogo university who not only considers music as a side hustle but a notable part of  his life. This lad with a heart of gold and a soothing  voice says music has been part of him from his childhood and he only sees big things ahead. Our writer caught up with him in his ideal studio practice time and he had a lot to reveal.
Who is Kato JB Haundred ?
I am student at Kyambogo university doing a bachelors in Banking and Micro-finance currently in my third and final year. I am a simple guy so down to earth and music is my life.
Music is your life you say, for how long have you been doing music?
I started doing music as a kid when I used to backup my mum in the church choir but legitimately, I started doing real music when I was in my form two in 2010 at Bukalasa Seminary.
So the seminary elevated your thoughts about music?
Partially, yes, because there were a variety of music classes. Speaking of inspiration, I would say my mum played a huge part as far as my inspiration is concerned. She's actually been so supportive as far as my music career is concerned.
The fact that a seminary was part of your music roots, why not doing gospel instead?
Huh (scratches head) honestly, I still have a thing for gospel music and am planning to record a gospel song very soon. However, I decided to go secular because my passion drew so much into the secular bit of it but not to mean I don't like gospel. A point in case, I was part of the Watoto fellowship since 2013-2014 so I've actually been doing gospel still.
What do you think makes a good artiste?
(thinks hard) I think a good artiste is one who is creative, full of art and an overwhelming passion for what they do.
What makes your singing career a special one?
Ooh well, first and foremost I write my own music which is by the way driven by inspiration, and I have a lot of strength when it comes to live performances.
Which is the biggest stage you've been to?
Quite many but uniquely I got a chance to perform at the Gen Congress of the Facolare Movement in Mbuya, which inspired me a lot more because i got a chance to meet fellow upcoming, ambitious and young artistes.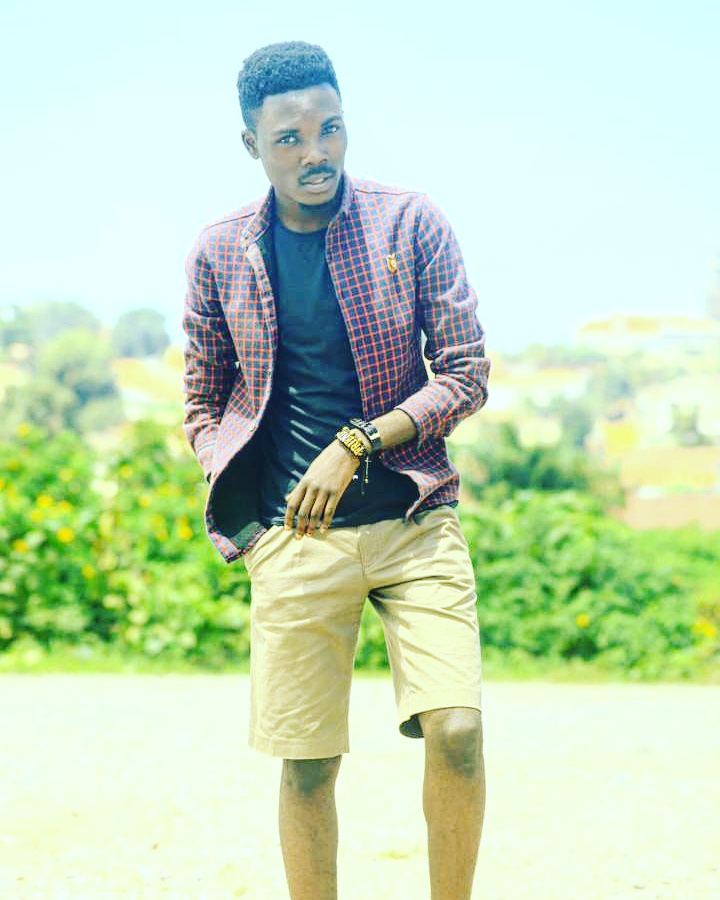 Which music instrument gives you comfort and brings the musician out of you?
I feel so much comfort using and playing a guitar and a violin.
How many songs have you worked on so far and who records your music ?
I have up to five songs released already and two raw audios in the studios, and majesty records does my music though am not signed to them. I am actually in the final stages of starting my own label named Polite Music. It currently has up to four members including Noah Infectious, Santa and Elmer.
You write your own music, manage a group where you are the founder, how do you juggle all this with your books?
Fam, music is a talent, I have time for the music plus I exclusively give time to my books and the fact that haven't been too much out there like doing performances I've really not been interrupted.
Has your career been fruitful as yet?
(Laughs hard) My guy I've reaped a lot from music most like I've met a lot of people, I be rubbing shoulders with big figures which I believe is key for my still upcoming career and of course the monetary returns I've got from a few performances. Plus I still look out for much more as time goes by.
What are the challenges in the industry?
Man alot of hurdles, you know lacking funds to record songs and shoot those videos. Actually I would have a multitude of songs by now but due to the limited funds you realise you have to prioritise some projects and put others to hold. And then I don't have management as yet so circulating my songs is still a big hustle.
It's a sweet voice you have, I am sure you have a lot of ladies coming around ??
Ohhh my God (laughs hard) that's not right.
Any word to your fellow youths? 
Be yourself and let criticism give you a bouncing point. If they ever try to keep you down, keep your head up. Your success depends on how much you're aggressive and not their words.
Comments