By Noeline Nabukenya
Kampala University has held their 19th graduation ceremony at the institution's main campus in Ggaba from where over 2000 students graduated with Certificates, Diplomas and degrees.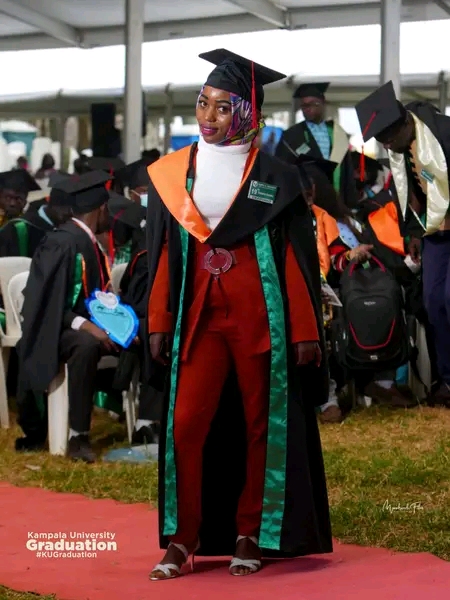 In his remarks, the university's Chancellor Prof. George Mondo Kagonyera who conferred the graduates has urged government to put in more money to support the loan scheme project, which he said has helped many students from underprivileged backgrounds attain their education.
"The government has a program for giving loans to young men and women who could otherwise not be able to go to school. I would appeal to government to put in more money so that our children can attain higher education," Prof. Kagonyera said.
The occasion was graced by Hon. Judith Nabakooba, the minister of Lands, housing, and urban development as the guest of honour, who represented the Vice President H.E Jesca Alupo.
In her address, Hon. Nabakooba noted that the country is moving away from training job seekers to job creators through practical skills that are embedded in the new curriculum.
"It is clear that the country is now moving away from theoretical to practical questions, training skills which has been emphasized much more than before. We need to grow more skills among Ugandan learners and teachers," Minister Nabakooba argued.
She added that government extends funds to boost research and innovations but it is unfortunate that private institutions are incapacitated to access and benefit from this fund.
The minister therefore advised them to look for alternative networks to rebuild higher education and research, "I encourage you to create both local and International networks to gain technical and practical education."
Hon. Nabakooba also advised graduands to engage in development programs initiated by the government like Parish Development Models as she said the world outside school is harsh;
"You are passing out at a time when the world is facing serious social challenges like poverty, hunger, diseases, illiteracy, unemployment, environment degradation, among others."
Kampala University is a fully fledged, private, chartered, recognized and accredited university in Uganda.
It offers over 65 certificate, diplomas, bachelors, and masters programmes with their main campus at Ggaba and four other branches in Masaka, Luwero, Jinja and Mutundwe.
Comments