LDC prospective graduands have expressed dissatisfaction with the decision by management regarding graduation fees.
A source familiar with the matter has revealed to this website that the graduands have been requested to pay a fare amounting to shs. 450,000.
The students revealed their fury whilst reacting to Hamis Ddungu Lukyamuzi's (LDC secretary) statement on management committee decision pertaining examination results and graduation.
At its meeting of Thursday 23 June, 2022, the Management Committee, LDC, resolved as follows:
1. Ratified and approved final results for the Academic Year 2020/2021 and previous years, including results of supplementary and special examinations, as earlier released and communicated by the Board of Examiners (BOE).
2. Results shall be subject to LDC's applicable appeals processes.
3. Verification and Appeals processes shall be concluded before graduation to enable all qualified students to graduate.
4. The 49th Graduation ceremony shall take place on Friday 29th July 2022 at the LDC Kampala Campus.
5. Mindful of the uncertain and ever evolving situation regarding covid-19, the Graduation ceremony shall be a hybrid function with some selected participants attending physically and the rest attending online/virtually.
LDC students have for long been frustrated by the delay for this year's graduation ceremony that will finally be held on July 29, after waiting for close to a year.
The amount to be paid is more alarming to the students who argue that it does not correlate with the plan to have a blended (both virtual and physical) graduation ceremony.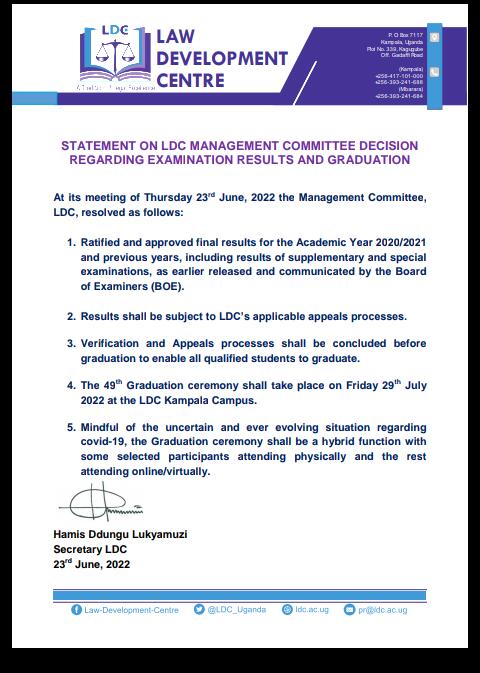 Comments