News coming in indicates that Makerere University has indefinitely suspended Ainebyona Ronald, the student who recently accused Makerere University's Dean of Students of having solicited a bribe from him to "help" the student contest in the 2018/2019 students' guild elections.
The suspension is communicated by a letter dated 12th March 2018 authored by Makerere's Vice Chancellor Prof. Barnabas Nawangwe, a copy of which Campus Bee has seen.
In his letter, Prof. Nawangwe states to be in receipt of a letter from the Dean of Students which contains a litany of charges against Ainebyona, including accusations of presenting forged academic results to the guild electoral commission for nomination; defaming the person of the Dean of Students; and publicly admitting to bribing the chairperson of the guild electoral commission.
"Accordingly, I hereby suspend you from the University with immediate effect … You are strongly advised to desist from any access to the University premises and/or interaction with any student of the University until your case is completed … and leave the university with immediate effect," reads part of the Vice Chancellor's letter to Ainebyona.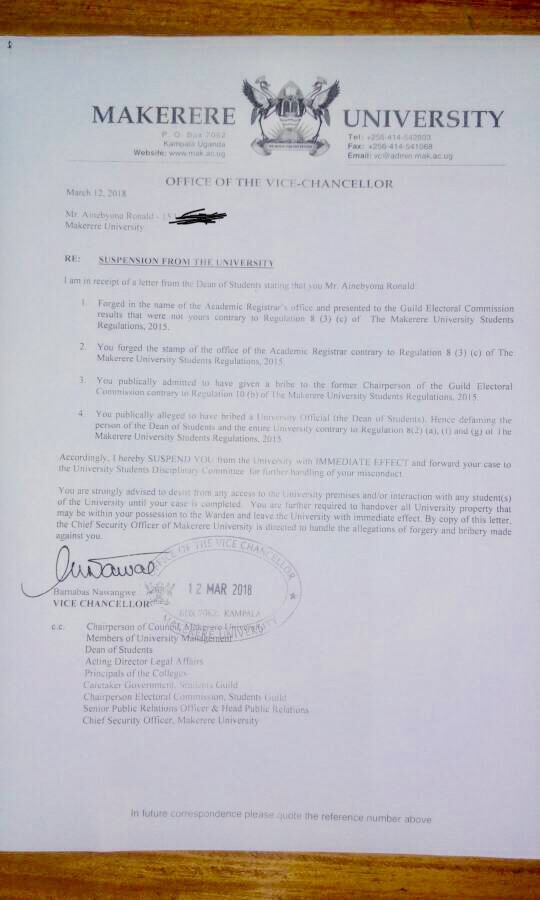 Ainebyona, a student of law at the university, is now slated to miss out on sitting coursework tests scheduled for the week starting 19 March, as a result of which he will be automatically barred from sitting his final examinations in accordance with the relevant university policies.
The student's woes stem from accusations he recently made against Makerere's Dean of Students Mr. Kabagambe Cyriaco, alleging that the latter solicited from the former UGX 5,600,000/= so as to forge for the former the academic documents necessary to permit him contest as Guild President in the elections slated for Wednesday 14th March 2018, but that later the Dean reneged on that promise. Ainebyona was widely expected by the general student community to contest as the flagbearer of Uganda's political opposition powerhouse FDC party.
Campus Bee understands that after receiving his suspension letter, the student immediately sought advice from his lawyers M/s. Centre for Legal Aid who have have today afternoon delivered a tersely worded letter to the Vice Chancellor protesting the "arbitrary" suspension of their client "that is neither backed by law nor consistent with principles of natural justice".
The student's lawyers have also contested the "indefinite" suspension of their client, asserting that considering the timelines relevant to university education, any suspension longer than one week is untenable in law.
One of the student leaders Campus Bee has spoken to on condition of anonymity to comment on this matter opines that "in Makerere, an indefinite suspension is an expulsion. simple."
This is a developing story.
Comments