Due to increased suspicion about the authenticity of degrees awarded by Uganda's premier university, Makerere management  has passed a budget of Shs 300,080,000 million to facilitate a committee tasked with investigating the vice of marks alteration.
According to letters authored by the university's vice chancellor Prof John Ddumba-Ssentamu and sent to the institution's secretary, Charles Barugahare, the committee was put in place in 2014 but it had not produced any results yet.
"It is over three years since the referenced committee was tasked with investigation into alleged alteration of marks. The committee has to date not completed work due to lack of facilitation. This is therefore to request that initial payment of at least UGX 80million is made to fast track the committee work," reads Ddumba's January 13, 2017 letter  to Barugahare.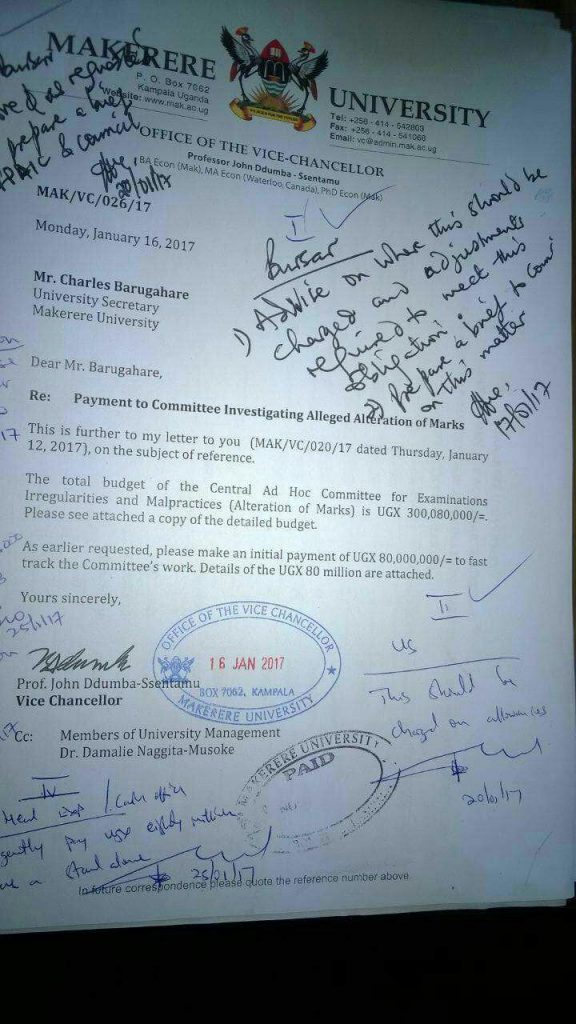 About two years back, Makerere was allover the news with accusations that most of its graduates have been getting awarded with fake degrees after bribing some individuals in senate to change their marks for better grades. The allegation was however watered down by the university management which said it was not possible.
However, another letter by Ddumba, and in our possession, indicates that he has since been on pressure and curious about knowing whether the allegation is true. He is now pressurizing Barugahare to release the said money so that the truth is discovered.
We shall keep you posted about this story.