Word reaching the Campus Bee news desk indicates that money and hunger for power have split the Kyambogo University People Power guild government into pieces ahead of reopening. A total of six guild ministers have so far resigned over the Guild President, John Mbaziira's alleged dictatorial policies.
A few former Ministers have come out to comment on their resignation and everything points to two things; money and power.
According to multiple resignation letters penned by the tired Ministers, Mbaziira captured all their power, an act that rendered them useless and unable to carry out their duties as stipulated in the guild constitution.
Some of the Ministers who have so far resigned include; Markmot Daniel (Minister of Gender, Culture and Religious Affairs), Arinda Dickens (Minister of Justice and Constitutional Affairs), Ayebare Caroline (Minister of Health and Environment), Kyaligonza Ivan (Prime Minister/General Secretary), and Canwat Willy (Minister of Academics and Professional Affairs).
Campus Bee also understands that the disgruntled leaders have resigned following the Guild President's recent reshuffle of the Cabinet whose main reason remains a big puzzle.
It should be recalled that the guild cabinet recently officiated a seven-member committee to kick off activities geared towards the safe reopening of campus. According to Mbaziira, the seven-member committee would inspect students' off-campus accommodation units, academic facilities, halls of residences and dinning halls as well as restaurants on-campus. The committee was also expected to make recommendations on capacity to implement and observe SOPs ahead of planned reopening.
According to former Health Minister Caroline Ayebare, the Guild President (with the help of his advisors) denied her power to execute her duties. She alleges that the advisors and the guild president recently made a list of beneficiaries for the Health Week, an activity that was supposed to be handled by her.
"The students guild leadership is facing some many challenges and one of the challenges is the guild president we have, who is always over ruling cabinet resolutions mbu since he's the head of cabinet, he has successfully made students miss out on great guild activities since he claims nothing should happen online," Ayebare said shortly after submitting her resignation letter.
"He has presidential advisors called Edrine and Axam who have stolen guild money, for example in my ministry when we were going to have the health week it's them who made the list of beneficiaries, me the minister I had no power to do it since the president told them. The advisors went ahead and called the facilitators to ask the money from them and the money was sent back to them." Ayebare added.
On the other hand, Arinda Dickens, the former Minister of Justice and Constitutional Affairs explained that his resignation is not based on personal issues with the president. According to Arinda, Mbaziira's dictatorial policies in Cabinet meetings did not give him a chance to execute his duties as stipulated in the guild constitution.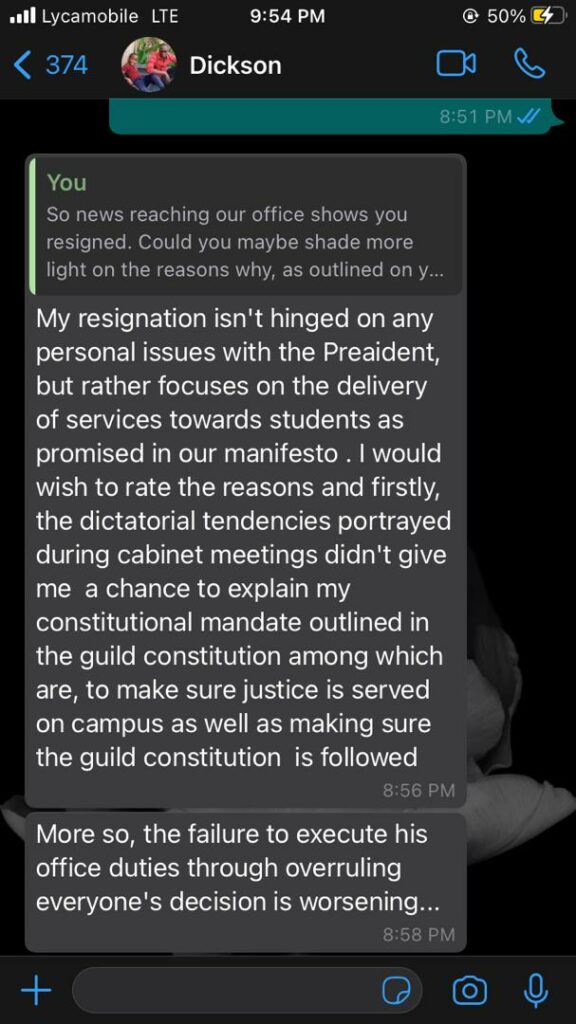 Some reports indicate that Ministers carrying out hostel inspection drafted a requisition for all expenses they would incur during the inspection which the Guild President refused to sign citing lack of justifiable evidence of work done.
Mbaziira reportedly tasked the Ministers to carry out inspection and draft a complete report of their findings before their facilitation would be approved.  Some reports indicate that Mbaziira's decision angered several ministers who translated it as a deliberate move to block their bread.
Apparently, all Ministers had already bagged UGX 1.2 million facilitation for transport and communication (for the whole term).
The Ministers' hunger for money reportedly forced Mbaziira to reshuffle the Cabinet with reference to article 8 clause 8 of the Kyambogo guild constitution.
Comments